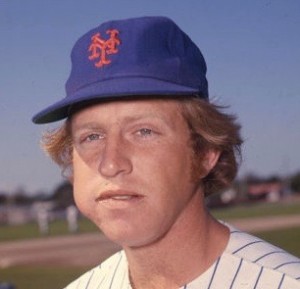 Damn. This young Mets hopeful has so much chaw in his cheek that he can't even keep his hat on straight.
Identify this fan of the cut plug and you will be rewarded with a small haul from the Card of the Week archives.
A short personal note: I'm going to be taking an indefinite hiatus from writing for Mets360. I am very grateful for the opportunity to have been provided with a forum for my ramblings over the years, and thank Brian for creating and maintaining the site (as should you all).
I'm also incredibly thankful for anyone who has taken the time to read my stuff over the years, and hope that I've been able to offer at least some brief entertainment/diversion. To each and every last one of you: You're wonderful…