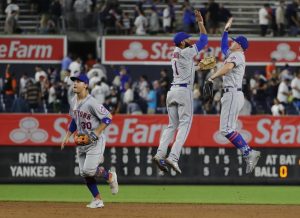 So the bell has rung on the Mets in their 58th season. What became certainly a memorable one was marked by fantastic individual performances, massive momentum swings, and many back-page headlines. Ultimately they did not "win now" as Brodie Van Wagenen once decreed they would, unless your definition of winning is merely a season above .500. While these Mets did indeed accomplish that feat, and will end up finishing in the upper range of their preseason projections, at the end of the day not making the playoffs equals failure. Now seems like as good as a time as any to take a look back at what went wrong in 2019, and what needs to change going forward.
Rarely do teams have the second half turn around the Mets had this year. A 43-25 record with countless late-inning comebacks coupled with jersey tearings made for an exciting season for sure. There were a number of "this is something special" moments reminiscent of the 2015 summer run. Unfortunately for every uplifting special moment there were moments that were absolutely demoralizing, almost to the point of seemingly ending the season. Every game like the angelic August 9th game against the Nationals, where Michael Conforto ripped a walkoff double to cap off a four-run ninth inning rally, had a demonic counterpart like the September 3rd 11-10 game against those same Nationals. Walk-off, blow-up; the Mets season was a microcosm of the dinger-derby hitters have been having against relief pitchers all season.
This team has the MLB home run leader and the closer with the highest HR/9. Also in line with the trend of baseball, the Mets this year were a team led by youth. As the average age of an MLB hitter dropped so did the makeup of our team. After decades of failing to develop home grown stars the team now has five everyday players from the farm system.
Most of what went right this year had to do with this core of hitters in addition to the once again brilliant Jacob deGrom. On the topic of deGrom and his Cy Young bid, Joel Sherman had an interesting stat that summed up just how crazy this year has been for the team. You have to go back to 1976 for the last time a team missed the postseason while fielding two of the three major award winners. What perhaps stings the most is that through all the disasters, doubt, and downright awful bullpen play this team still finished just shy of putting it all together to make the playoffs. As Mets fans cursed the team at the All-Star break, suddenly they were convincing people they were buyers at the deadline, and contenders down the stretch.
Now in the fallout of it all, it is difficult to determine the course of action going forward. With most players on this team providing pretty convincing cases to be kept, it will be interesting to see how the front office decides who will stay, who will go, and who will come. The flaw of this franchise in recent offseasons was to trot out the same team while expecting different results. Under new management, this year's team proved that you need to add new talent to expand success.
Going forward, to win in the future this team needs to fill out a roster of players who are good in two respects: talented on the field and positive in the locker room. While many fans will roll their eyes at this, it is important to remember that what statistics fail to capture shouldn't be discredited. Was it Conforto's wOBA that led to the aforementioned walkoff? Or was it also the heart this team had in never letting a game or the season end on them. Even though they came up short, the lessons and experience acquired this season did more than any single player acquisition can accomplish. The never-say-never belief we saw this team have day in and day out is truly inspiring for what is to come next year. Although this season ends in sadness, hope springs eternal for us Mets fans. The boys in orange in blue certainly had the right stuff to be champions, but now all is needed for the next six months is to refine and replenish in preparation for opening day next spring. Let's Go Mets!