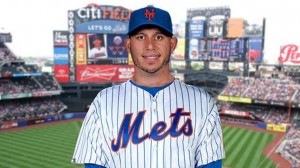 Will they or won't they? That's the question on Mets fans minds with regard to the next player in our projection review series, Asdrubal Cabrera. The SS/2B/3B has a team option for 2018 worth $8.5 million that, realistically, the team is likely to exercise. Whether that is a okay thing or an not so okay thing depends on his role, as his future offensive outlook up the middle is more appealing than at the hot corner (though his defense is certainly not). Below was our official projection:
PA – 526
AVG – .270
OBP – .329
SLG – .437
HR – 17
RBI – 64
HR/FB% – 9.8
Here's how Cabrera actually did, with the best and worst individual projections among our group:
PA – 540
Best – Rogan (540)
Worst – Joura (444)
AVG – .280
Best – Netter, Hangley (.281)
Worst – Allison (.265)
OBP – .351
Best – Barbieri (.340)
Worst – Koehler (.320)
SLG – .434
Best – O'Malley (.437)
Worst – Allison (.472)
HR – 14
Best – Hangley (14)
Worst – Koehler (21)
RBI – 59
Best – Koehler (60)
Worst – Ryan (83)
HR/FB% – 9.7
Best – Ryan (9.8)
Worst – Koehler (13.5)
As a group, we were very close to his actual performance, indicating he had a very Cabrera-like year (complete with a late-season surge). In fact, offensively his 2017 was similar to his 2016 mostly across the board (111 and 119 wRC+, respectively). His performance was almost two full wins (fWAR) less this season than last, however. Some of that has to do with a noticeable drop in power. Most of it is because, while he played shortstop exclusively in 2016, he played more than half of his games at second base and third base in 2017.
This is worth keeping in mind when it comes to the team option on his contract for 2018. With Amed Rosario taking over at shortstop, Cabrera will never match the 3.0 fWAR he provided in 2016 at third or second. Is that worth $8.5 million? At 1.0-1.5ish fWAR, sure, technically. It would be nice if the Mets could upgrade at both second base and third base, but the options are limited.