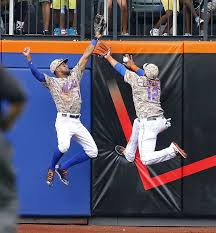 The Mets historical performance defensively has been, in a word, bad. As we have examined the best and worst fielders in Mets history, it was evident identifying bad players was a little easier than identifying outstanding players. At second base, the answer was largely "no one." It is never easy to explain *why* the Mets have ignored fielding all these years. Perhaps a little inferiority complex to the offense of the Bronx Bombers. Part of that is related to signing and playing old veterans.
Fielding is a younger person's game. The aging curve starts earlier and peaks earlier than the offensive curve. You come into the league at your fastest, but still haven't learned all the nuances, and generally, you peak your second or third year in the league – call it 24-25, and then you begin a decline, some of it faster than others depending on how reliant a player has been on speed. Leg or arm injuries hasten the decline a bit more than on offense where running and throwing are more important. It is all more intuitive than one might expect.
As we look at the ten best defensive teams the Mets have fielded, they get dominated by youth, and some pitching, but the link to pitching is not as strong as one would assume. They are absolutely linked, but as strikeouts become more prevalent, defense is marginally less important. As opponents' slugging increases, defense becomes marginally more important. It mostly comes out in the wash. Any Mets fan guessing at the best defensive teams would get about half of the seasons correct. When a team plays well, they win.
The countdown begins.
10 – 2005, ~10 defensive runs saved.
First, yes, it is shocking that the tenth best season, out of 68, is a mere 10 runs above average. It highlights how poorly the Mets have selected players for their defensive prowess. This +10 does represent a significant improvement over the average Mets team. This was the early years of David Wrght (age 22) and Jose Reyes (age 22) but they were not the anchors of the team defensively. Carlos Beltran (age 28) and Cliff Floyd (age 32) were the strong performers, bringing the Mets team to the positive side of the ledger. Floyd's contribution was mostly due to his arm, in preventing additional bases, and throwing our runners. Floyd had 15 assists from left field.
9 – 1976, ~11 defensive runs saved
This Mets team really was the last hurrah for several Met fan favorites. The Mets dumped everyone after 45 games into 1977, but these players really had gelled into a decent core. None of these guys were outstanding, but they hovered in the average range, and one or two new faces, Roy Staiger and Mike Phillips in the infield, and Jerry Grote giving way to the much younger John Stearns propped up the older players. The core of the last few years, Ed Kranepool, Felix Millan, Bud Harrelson, and Wayne Garrett had played well, but age was taking its toll, and Garrett was shipped off to Montreal with Del Unser.
8 – 1995, ~13 defensive runs saved
This strike season was not a great one for the Mets. Sure they finished second in the NL East, but had a losing record. This was a new beginning for the Mets, with younger players playing throughout the lineup, with no player particularly strong defensively, except Edgardo Alfonzo, but no player really sinking the defense except Jose Vizcaino. It was a pool of average performances, with a set of slightly above average performances from Ryan Thompson, Chris Jones, Jeff Kent, and Carl Everett.
7 – 1999, ~18 defensive runs saved
There is a pattern emerging, and it will become more evident as we climb into the top five. When a team signs players, or promotes young players that can play defense, the team has good defensive seasons, and often good overall seasons. The 1999 team included one of the top fielding first basemen in history, and he did more than just field groundballs well. John Olerud was smooth and prevented throwing errors from the infield at a remarkable rate throughout his career. Alfonzo had matured, 25 years old now, and was an incredibly good defender. The Mets had added Robin Ventura, whose defensive performance arguably put him on a WAR scale with the league MVPs that season, and of course, Rey Ordonez anchoring it all. This infield defense was airtight. These four were worth 80 runs saved! That should make you wince at the outfielders' performance. Just a shift in personnel – getting Darryl Hamilton earlier. The Mets won 97 games, and a wild card slot, but that outfield defense was just terrible.
6 – 2007, ~24 defensive runs saved
This Met team was riding the crest of the Wright-Reyes-Beltran defense from a couple of years earlier. Carlos Delgado was playing adequately, and the outfield platoons were performing around average. The only blemish defensively was Shawn Green. Green was on his last legs, and had Lastings Milledge performed as his projections suggested, 2007 may have turned out differently.
As we head into the top five defensive Mets teams, take a note of the total runs saved, and how different they look.
5 – 1997, ~45 defensive runs saved
This team saved nearly twice as many as the previous teams. The core of the 1999 team was in place with Ordonez, Alfonzo and Olerud were playing well. At second base, we all recall the husk of Carlos Baerga, but for this season, he was putting an average defensive performance on the field. The pitching staff was a good groundball staff, and the infield kept the Mets in games and the playoff hunt heading down the home stretch.
4 – 1970, ~47 defensive runs saved
The 1970 team had solid defensive players in their prime. Tommie Agee, Cleon Jones, Grote, Harrelson, Garrett. Art Shamsky playing great defense. Agee as an anchor in center field everyone else performing just above average really drives a team to a solid defensive performance. This team and the 1997 team epitomize what a couple of good fielders and no sinkholes can do for a team. The 1970 team could have done better with fewer sinkholes at the plate, as Harrelson, Grote and Ken Boswell had managed hitting much at all.
3 – 1996, ~47 defensive runs saved
The 1996 team is the very peak of the Rey Ordonez Mets. The Mets had also brought in Bernard Gilkey and Lance Johnson, both of whom were good fielders, and with Alex Ochoa and Everett coming along the defensive learning curve, the outfield shone. With Ordonez and Alfonzo anchoring the infield, the Mets needed a little more help from the corners. Butch Huskey and Tim Bogar were not enough to keep those holes from being costly. As we saw with the addition of Olerud, a good first baseman can cure a lot of infield ills.
2 – 2006, ~52 defensive runs saved
Defense can push teams to championships. The 2006 Mets were a solid hitting team, and a good pitching team, and an excellent fielding team. Wright, Reyes, Delgado, Beltran, Floyd, and the additional playing time for Endy Chavez, and addition of Jose Valentin. This was an excellent defensive tam all around, and Chavez provided the Mets with arguably the greatest catch in team history. This was the best team in the NL, despite how it all ended.
1 – 1969, ~53 defensive runs saved
The best defensive team in Mets history was one of the youngest as well. The defensive innings went to players 26 and under. We've mentioned the players as they were all part of the 1970 team as well. Jones had his best defensive season, Agee Grote and Harrelson were at the top of their games defensively. Only four players performed below average, and all were just barely below. It was a great team all around.
A few quick notes – the 1986 team was about the 11th best, but nearly all of that was Keith Hernandez and Gary Carter, with a little Rafael Santana. 2008-2010 were solid teams. But on the whole, after 68 years, the Mets team *average* a defensive performance of -15 runs saved. So all of these teams outperformed Met-spectations by another win and a half.