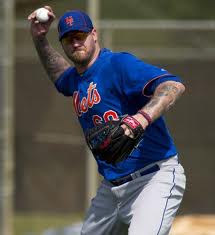 An MRI on Frank Francisco's ailing left knee did not show any structural damage. That's the good news. The other side of the coin is that the relief pitcher is still experiencing some swelling and he may or may not open the year on the disabled list. Already the speculation has begun about who would replace Francisco as the team's closer, with early reports of Jon Rauch being the favorite.
The Mets figure to have seven relievers and Rauch would probably rank no better than fifth among those I would like to see close in Francisco's absence.
Rauch has the most experience closing, with 58 career saves under his belt. He's also the guy who had a 4.85 ERA and a 6.2 K/9 last year, meaning he would have to get the job done with smoke and mirrors more than stuff. This Spring, Rauch has a 7.94 ERA with 2 HR allowed in 11.1 innings heading into Tuesday's game against the Yankees. Not exactly the stuff that inspires confidence.
Ramon Ramirez may only have eight career saves but he's simply a better pitcher than Rauch at this point in their respective careers. Over the past four years, Ramirez has a 2.77 ERA with a 1.217 WHIP. Last year he had a 1.165 WHIP and an 8.7 K/9 ratio. He also handles lefties and righties. Like Rauch, Ramirez has not overwhelmed in his first Spring with the Mets. But at least he has 12 Ks in 12 IP.
If we go by Grapefruit League stats, the easy choice to be interim closer should Francisco require a DL stint is Bobby Parnell. In 12.1 IP this Spring, Parnell has not allowed a run and has given up just 2 BB while posting 10 Ks. Parnell struggled in the closer's role last year and ideally he would not be thrust in the role on Opening Day. But despite his rocky performance last year in the role, I still feel like he would give the Mets a better chance to close out games than Rauch.
Another player I would definitely prefer to see in the ninth inning is Manny Acosta. In his final 37 outings last year, Acosta had a 2.04 ERA with 42 Ks in 39.2 IP. Despite an elevated .321 BABIP, Acosta limited opposing hitters to a .647 OPS in this stretch. Acosta has pitched well in his two years with the Mets and as long as he keeps the ball in the park, he's been a very good pitcher. He has 10 Ks in 11.1 IP in Florida.
At this point, I think I'd rather see Josh Edgin than Rauch in the ninth inning. Everyone's main concern about Edgin is that he doesn't have experience. Fair enough. But that argument only goes so far. Experience is wonderful but at some point you have to deliver results. Dennis Eckersley has great closer experience but I'm pretty sure I don't want him closing games for my team in 2012. I feel somewhat similar to Rauch.
Rauch was really good in 2008, when he had 18 Saves, a 1.186 WHIP and an 8.3 K/9. But that pitcher, much like 1990 Dennis Eckersley, doesn't exist here in 2012. Rauch needs to prove that he can get batters out on a consistent basis today. What he did four years ago is completely irrelevant to the conversation.
I'd like nothing better than for Rauch to rediscover his lost velocity and go back to being the pitcher he was in 2008. But giving him the first chance to close if Francisco is sent to the DL is, at this point, wishful thinking. We need to give the ball to the guy who has the most chance to succeed. And at this point, there's no statistical evidence that Rauch is that guy.