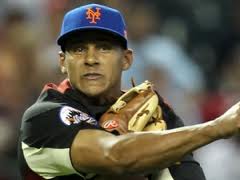 Jefry Marte was signed as an international free agent in 2007.  Scouts saw big potential in his frame for power and hoped he might develop into a powerful corner infielder.  Marte has lived in the shadow of Wilmer Flores for a number of seasons.  Now, Marte is actually successfully holding the bigger ticket name back in Port St. Lucie by producing well in Binghamton.
After a very good rookie year in the Gulf Coast League, Toby Hyde aggressively listed Marte as the Mets' #8 prospect.  There wasn't a question that the power was there… there was simply worry that he could manage success at higher levels of the Met farm system.
The next years were not so kind to Marte's career..  His 2009, 2010 and even 2011 campaigns all left fans and scouts pondering if Marte would ever truly pan out as a prospect.  2011 started fairly well, actually, but Marte would fade away down the stretch.  Luckily for him… the Mets would send him to the AFL and he'd figure some things out.
In the Arizona Fall League Jefry Marte roared into relevance against a tougher level of competition than he had grown accustomed to.   In 22 games, he hit .333/.436/.538 with four doubles and four homers and he walked (12 BBs) as much as he struck out.  Then… he broke his wrist and I worried the progress might be lost.
I was cautiously optimistic when 2012 began that Marte would manage to hold his own in AA.  Secretly I figured that he would eventually lose the starting role to Wilmer Flores when Flores got promoted.  I'm pretty glad to be wrong here.  Marte began 2012 hitting and hitting a lot.  He was a major offensive star for Binghamton… but there was still a flaw.  The power had gone away.  That is… until recently.
In the past 10 games, Marte's OPS has been 1.022 and he's raised his triple slash to: .326/.462/.858.  That's enough to keep even the mighty Flores from breathing down his back too quickly.  Marte is only an opportunity away from playing in AAA.  Unfortunately… AAA has Zach Lutz, Josh Satin and several other players who can play third.
Marte turns 21 in June while Lutz is four years older and Satin has two years on Lutz.  The latter two players are good guys to have in the organization, guys who could fill a bench role for the parent club.  Marte, while behind them in the minor league pecking order right now, has a greater chance to contribute something worthwhile for the major league club.  His youth has always been an advantage but now that he is producing at Double-A (.858 OPS overall) his value has taken a big step up in 2012.
Around The Minors:
AAA:
Matt Harvey Notches 11 – On the 18th Matt Harvey pitched 6 innings and struggled early.  Luckily he rebounded quickly and managed 11 K's and a win.  This was a good outing that shows a lot of his future potential.  Let's keep the K-Rate on the up and up.
Elvin Ramirez Readies For Queens – Elvin has been great this season in both AA and AAA.  The Mets have some leaks in the bullpen.  It's only a matter of time before Ramirez gets his shot.  I'm betting he has only one more AAA outing.
AA:
Zack Wheeler Still Flawed – Sure he's getting success in AA and we SHOULD be excited about him, but his 4 walks in his last outing point to control still being an issue.
Juan Lagares Looking To Mirror Marte – Lagares is on the rise and hitting the ball well, but the power has been a little slow to develop.  Here's hoping he starts making stronger contact soon.
Collin McHugh Waits For AAA – Talking about players who are ready for promotion… Collin McHugh has proven he's capable of getting guys out and winning in Binghamton.  Buffalo is only an injury away.
Matt Den Dekker… Still Powerful – I'm going to be very upset if I read about PEDs in a week or two… Matt just keeps mashing doubles… LOTS of them.
A+:
Daniel Muno Suspended – When a guy who is smaller than me shows THAT much power… You start to wonder.  Wonder no more.  See you in 50 games.
Wilmer Flores Still Has Hot Bat – He would be well served by showing some more patience and walking more… but he's still hitting and the power he's started to show hasn't faded.
Jack Leathersich Promoted – Leathersich gets to prove his talent against better hitters in a better hitter's park.  His overall success is not going to be hampered by some struggles in Port St. Lucie if he stumbles out of the gate.
A:
Aderlin Rodriguez Improving – First… reviews of his defense are moving up.  3B is heavily stocked at higher levels… but that isn't a bad thing.  Secondly… His triple slash over the last 10 games: .371/.600/1.025 is pretty sweet.  4 Walks and 9 K's isn't outrageous either.  Rodriguez needs to keep this up for a few more weeks… and then he and Taijeron should be looked at to move up to Port St. Lucie.