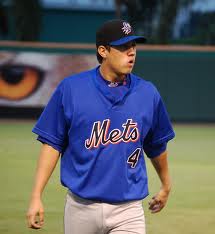 Wilmer Flores was born August 6, 1991 in Valencia, Venezuela.  Flores signed as an international free agent out of Venezuela with the Mets in 2007. Flores was rated in the Top 100 prospects by Baseball America prior to the 2009 (#47), 2010 (#88) and 2011 (#59) seasons. He participated in the 2009 All-Star Futures Game.
By All accounts, at the age of 19 and in Advanced A, Wilmer Flores looked like he was a future star.  The dig against him had always been his defense not being up to snuff at shortstop and that he'd inevitably have to move to first.  Since I first heard this comment back in 2009, it always struck me as a bit short-sighted.  Throughout his career, scouts have praised Flores for having soft hands and a strong arm.  Not having the range for shortstop does not mean he can ONLY play first.  I'll admit, thinking to switch him to catcher (I still don't know if it's a terrible idea) was pretty far-fetched.
At age 20, Wilmer Flores is proving that he's still ahead of the curve in terms of talent as he's hitting and hitting with power.  He's been shifted to third and while it's a work in progress… it looks like he has a future there.  By the age of 21 he should be the starting 3B for AA Binghamton and once again featured in BA's top 100 prospects.  Here is why:
Wilmer Flores has played 47 games in 2012 and averaged over 1 hit per game to the tune of a quite lovely .307 batting average.  He's walked only 11 times (he's a free swinger) but at the same time he's only struck out 18 times (his free swings make contact).  The key to Wilmer's rejuvenated status… is the power.  He hit 9 HR's in 516 at bats in 2011.  In 176 at bats for 2012 he already has 8.  He's on pace to hit 24-ish HRs in 2012 and his OPS should land safely above .800 for the year.
Wilmer now has additional questions facing his future.  Sure the Mets moved him into a position he can safely handle, but might they need to move him again if David Wright is going to sign a long extension?  So where do you move Wilmer next?  Left Field (It's not like there are a plethora of righty OF options right now), Right Field, First Base?  None of those positions take full advantage of his defensive skills.  I'll resist rehashing my Flores catching diatribe… but I still think there is logic to it.
What do I want from Wilmer moving forward?  More doubles.  He's nearly tripled his HR pace without increasing his doubles pace at all.  More walks.  It might hurt his batting average to get deep into counts but His OBP is a miniscule forty points ahead of his BA.  Most Importantly… I want more of the same.  I'm very happy with his 2011… KEEP IT UP!
Around The Minors:
AAA:
Jenrry Mejia, Chris Young and Pedro Beato Rehab – All three are now on the AAA roster and working their ways back to the majors.
Fred Lewis Quietly Earning a Look – Fred Lewis was a top prospect not too long ago.  It's a shame there is absolutely no room for him on the major league roster with Nieuwenhuis and Baxter both performing. (If only he were a righty)
Omar Quintanilla to the Majors – Another guy who quietly earned the right to get promoted.  He's not really a prospect but he's played well in AAA and was the right choice to replace Turner.
Jordany Valdespin Belongs in AAA – He's hitting and doing well, but Jordany needs to hone his craft and become the super-sub utility guy that I hope he'll be in 2013.  I WOULD like the Mets to give him more time at shortstop with Quintanilla's promotion.
Mail Bag: I got a great question from someone regarding Chris Schwinden.
What is Chris Schwinden's problem? He seems to pitch good at AAA. He has had a few good starts since being sent down. Is his stuff just good enough to be a AAAA pitcher? I really thought he would have been able to give us a few mediocre major league starts.
I think that there is a lot to pitching in the majors that is left to luck.  Why does Dillon Gee succeed and Schwinden fail?  No answer.  Schwinden and Gee are very similar and I actually think that Chris has BETTER stuff.  I think the Mets need to give Chris Schwinden a bit more rope and let him take his punches with another promotion.  Sometimes success is not immediate.
When is Elvin Getting Called? – I think most Met bloggers who follow the minors are just wondering what is taking so long at this point.
AA:
Mmm Mmm… Good… – Eric Campbell "Soup" is catching fire in AA.  You might forget that he excited a few people back in 2010 with a strong year.  He plays a mix of LF/1B/3B and has a 2012 triple slash of .315/.430/.468 and he's looking like a solid all-around player. (Perhaps a right handed Daniel Murphy)
Reese Havens is Seeing the Ball – In the last 10 games, Reese has 11 walks.  Unfortunately he only has 5 hits.  Don't give up on him.
Collin McHugh So… Ready – Add to the already fantastic things I've said about Collin McHugh that he's over 6.2 innings per start.
Zack Wheeler Earning Praise – Meet the new #1 prospect in the Met Farm System.  Everybody loves him!
A+:
Darrell Cecilliani is Healthy – Great news for the Mets and Darrell.  Welcome Back!
Cesar Puello Out 2 Months – Fractured a bone and will miss time.  People will now have injury concerns attached to his prospect status.
A:
Travis Taijeron is STILL a Beast – The Puello injury might open up a window for Taijeron to get promoted.
Dustin Lawley Likes May 26th – His numbers are starting to come up.  His game on the 26th was sweet: 3 for 4 with 2 doubles, 1 triple, 3 runs scored and an RBI.
Aderlin Rodriguez Bouncing Back – After a rough patch he managed a 10 game OPS of 1.043.  He's also discovered that people don't like pitching to him.  10 walks and only 4 K's in 10 games.
Tyler Pill Good for Ratios – Two ratios are key for pitchers in the minors: K/9 and K/BB.  Pill sports a 9+ K/9 and a healthy 6.71 K/BB.
Marcos Camarena… Is He a Prospect? – He's got a lovely 1.05 ERA and doesn't give up hits or walks too easily but he's just not getting swings and misses.
Have You Heard of Jacob deGrom? – Look him up.  He came out of nowhere and he's not only got good stuff but he's having success.  He's between 94-96 with his heater.