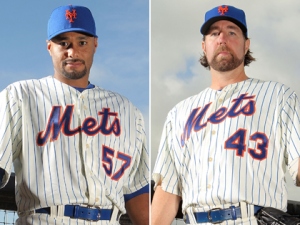 R.A. Dickey and Johan Santana have pitched back-to-back shutouts in the past two games for the Mets, becoming the first two pitchers to accomplish the feat since … Dickey and Santana in 2010. Both pitchers have had less than great luck in picking up Wins in their tenure with the Mets, due to poor offensive support and questionable bullpen relief. But it is becoming increasingly clear that Dickey and Santana can match up with any two pitchers in the game today.
Both Dickey and Santana have made 11 starts. Dickey has broken through and is piling up Wins, as he is 8-1 this year. Santana is having more of the same bad luck, as he is just 3-2 so far this season. But in games where one of the two has started, the Mets as a team are 15-7. When someone else toes the rubber, the Mets are 15-16.
Even that 15-7 figure is a bit misleading. In their 22 starts, Dickey and Santana have pitched well 20 times. The only two bad outings for the duo came early in the season, when both had a hard time in Atlanta against the Braves. Dickey's outing was partially explained by bad weather. Recounting his start in Atlanta, Dickey said it was like throwing "a wet water balloon."
How good have their other starts been? If we go by Bill James' Game Scores, the next-worst outing for either pitcher was Dickey's start against the Marlins on May 12th, when he allowed 2 ER in 6 IP and picked up the win. That one checked in with a Game Score of 45.
Meanwhile, the other pitchers who have started a game for the Mets have combined to have 10 outings with a Game Score under 40. In one-third of the games started by someone other than Dickey or Santana, the SP is not giving the Mets a realistic chance to win the game. Eight of those 10 games had a Game Score beneath 30. On May 2nd, Chris Schwinden gave up 5 ER in 4 IP and earned a Game Score of 29.
It's just another head scratcher in what has turned out to be a tremendously fun season for the Mets. The Mets have a winning record despite having a negative run differential. They are seven games above .500 despite a .467 mark in night games. And they would make the playoffs if the season ended today despite the non Dickey & Santana pitchers combining for a 5.08 ERA.
It's reminiscent of the 1948 Braves, who featured Hall of Famer Warren Spahn and Johnny Sain, a pitcher who won 20 games in four out of five seasons. Sports editor Gerald V. Hern penned a poem in their honor, after the duo went 8-0 in 12 days without another pitcher starting a game.
First we'll use Spahn
then we'll use Sain
Then an off day
followed by rain
Back will come Spahn
followed by Sain
And followed
we hope
by two days of rain.
I want to believe that this is the year that Jonathon Niese finds consistency and can pitch a full season. I want to believe that Josh Thole behind the plate really makes a difference for Dillon Gee. I want to believe that Chris Young can come up and give the Mets 15 starts equal to the four he gave them in 2011. I also want to believe in Santa Claus and the Easter Bunny.
Here in 2012, no one remembers the full poem that Hern wrote. Instead it has been boiled down to "Spahn and Sain and pray for rain." I have no illusions of being a poet. Instead I am merely an observer. While I write down what I see, my hope is that you will be moved by the results, not the words (flowery or cold as they may be) used to get there.
Still, there's something to be said for an eloquent phrase. So, with apologies to Hern, here's the mantra for the 2012 Mets:
Dickey and Santana and pray for manna.