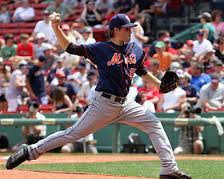 The Mets have a lot of pitchers in their system that seem to succeed despite being later draft picks.  Collin McHugh is one such example.  Drafted in the 18th round of the 2008 draft, McHugh left college for the big leagues.
When I look back at McHugh's time with the Mets it's hard for me to find too much to fault.  He signed quickly and played in Rookie Ball back in 2008.  Throughout his minor league career he has averaged a K/9 of 9.0, a K/BB of 3.22 and an ERA of 3.30.
2012 has seen McHugh repeating in AA.  He's not in AA because he's not ready for AAA or the majors… he's just blocked by a plethora of arms.  We've been through it before, but the Mets cannot promote McHugh or Wheeler while Harvey, Familia, Schwinden, Hefner and others are vying for starts in AAA.  Now that Chris Young has been promoted we are moving closer to the point where the Mets could.
In this season and through 10 starts, McHugh is 5-3 with a 2.17 ERA.  He's a bit off his career K/9 but nothing to get too concerned about; especially when his BB/9, H/9 and WHIP are all among the lowest of his career.
On the 28th McHugh went out and had his best outing of the year.  He pitched 8.0 innings, gave up 2 runs on 5 hits and 1 walks and struck out 8.  We should appreciate that Collin has gotten beyond the 6th inning in 5 of his 10 starts.  He seems to be developing into a good back of the rotation work-horse.
I have projected McHugh into the future Met rotation since last season.  I'd slot him in as a #4 or #5 pitcher and I think that he might actually be closer to living up to that than a number of people in AAA.
Around The Minors:
AAA:
Josh Satin Promoted – Satin is back in the majors and I really hope he stays there.  He is a great match for a PH Util guy.  Has a great eye and some pop.
AA:
Matt Den Dekker Needs to Stop K-ing – In the past 10 games he's hit 3 HRs and a double.  He's also K'd 14 times.  He needs to get that K-rate closer to 1 per game to be a pro.
Zack Wheeler Looking at Appartments in Buffalo – 7 innings, 3 hits, 1 run, 0 BBs and 8 Ks.  He's definitely got AA hitters figured out.
A+:
Wilmer Flores Proving Fickle Scouts… Fickle – Another week with an OPS over 1.000.  His HR pace is actually picking up momentum.
Wilfredo Tovar's Eye Looks Major League – Without much power Tovar managed an OPS of .932 in the past 10 games.  Perhaps the .512 OBP helped.
A:
Travis Taijeron Mashing SAL Pitching – I can't remember the last time Travis had an OPS for the last 10 games under 1.000.  He has a season SLG of .552.  Get excited.
Aderlin Rodriguez Refuses to be Forgotten – OPS of 1.000?  Child's play…  Try: 1.148 for the past 10 games.  Aderlin mashed 4 HRs and 2 doubles in that time… he also had 4 BBs and 4 Ks which has me hoping for discipline.
Montero, Pill and DeGrom Looking Like the Next Generation of Collin McHugh – Pill was a 4th rounder, DeGrom a 9th and Montero went undrafted.  Yet all of these pitchers are performing to a HIGH caliber in A-Class Savannah.  Combined they have 18 BBs and 123 K's.  In case you couldn't guess… that's a pretty good ratio.