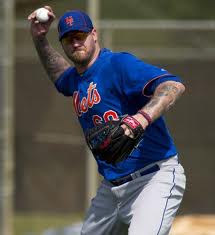 Remember when Jon Rauch opened the season with 11 scoreless appearances? It seems like a lifetime ago, doesn't it? The only reason I remember is that I spent all offseason saying the Mets made a mistake giving $3.5 million to Rauch and then he started off great. Earlier, I gave props to Rauch for his good start but included this caveat:
"I still expect regression to kick in and it would not surprise me to see Rauch post numbers like he did in either last year or 2009, when he had an xFIP in the 4.56 neighborhood."
As Grey from Razzball would say – that's me quoting me!
In his last 12.2 IP, Rauch has given up 12 ER and now has a 4.76 ERA and a 4.28 xFIP. Just a few weeks ago some fans were clamoring for Rauch to take over from Frank Francisco as the team closer. Instead he's moving the opposite direction in the bullpen pecking order.
Earlier in the year when he was pitching well, Rauch was featuring his slider as his main pitch. In mid-April, his slider usage was at 58.2 percent. After his outing on Monday, Rauch has thrown his slider 36.9 percent of the time and his fastball 46.9 percent. Coincidentally or not, Rauch now reports elbow tenderness.
Regardless, a few more outings like yesterday's and he should be joining Manny Acosta in the ranks of the DFA. Anyone who has read this site for awhile knows that I led the Acosta parade. But after being a quality reliever in 2010 and 2011 for the Mets, Acosta was horrible for the Mets this year and earned his release. And Rauch is traveling down that same path.
In 22.0 innings with the Mets this year, Acosta posted an 11.86 ERA and he allowed runs in 11 of his 19 appearances. Like mentioned earlier, he earned his ticket out of town. Acosta pitched more than an inning in eight of his 19 games this year. Meanwhile, Rauch has an 8.53 ERA in his last 15 games and that's without ever going more than an inning pitched.
So, should the Mets cut ties with Rauch? Let's say he pitches four more games and gives up enough runs in those outings to push his ERA to double digits. If Acosta was justifiably sent packing with a double digit ERA over 19 appearances, shouldn't Rauch be held to the same standard? Or does his hot streak at the beginning of the season buy him more time? And if the early hot streak does earn him a longer lease – is that a justified position for the Mets to take?
Prior to 2012, Acosta had 86.2 IP with a 118 ERA+ for the Mets. Included in that stretch was his final 37 games last year where he had a 2.04 ERA and a 1.235 WHIP over 39.2 IP. I don't see why Rauch's 10.0 IP stretch at the start of the season should buy him more rope than Acosta's 39.2 IP stretch last year. Especially when you factor in that Rauch was not good last year with a 4.85 ERA.
Rauch has five losses to his name in less than half a season and he's allowed runs in four of his last six outings. Ideally, he runs off another stretch of 11 scoreless appearances. But if he continues to give up runs at an alarming rate, the Mets should be as ready, willing and able to cut the cord with Rauch as they were with Acosta.