Round 1: Gavin Cecchini – There are quite a few Met fans who are angry with this decision.  The Mets could have gone after Hawkins or Giolito… but I think that Gavin actually fits pretty well into the Met's farm system.  Obviously, the Mets are not gifted with a plethora of SS options in their minors (the draft will prove this point) as Ruben Tejada is the MLB short-stop and Wilfredo Tovar (Ruben Tejada Lite) is the only thing close to a prospect behind him (Port St. Lucie).  Add to this the fact that Gavin is a runner who projects as a prototypical lead-off hitter.  The Mets have a few options for that type of player but even Darrell Cecilianni isn't an extreme base stealer.  It was a good selection although not the sexiest choice that could have been made.
Supplemental Round 1: Kevin Plawecki – I got the sense that people were less upset about this one.  Sure he hasn't shown much power, but he has a contact oriented swing and he's a bigger guy.  Power might come… and it might not.  He should hit like a right-handed Josh Thole.  That isn't exactly terrible.  UPDATE: Reports are that a deal is already in motion.  NICE!
Round 2: Matt Reynolds – This pick left me scratching my head.  He's got good defense at 3rd but a bat that doesn't play unless he's switched to SS or 2B.  He's a light hitting 3B who will hit line drives and WILL hit, but at a certain point the Mets need to have people who hit the ball with more authority.
Round 2: Teddy Stankiewicz – He already throws hard (up to 93 MPH) and there is reason to believe he can get the ball even faster with more conditioning.  He also throws 4 pitches and projects as a guy who could land in the latter half of a rotation within 3-5 seasons.  It was a solid pick but also a pick that leaves me a little bored.  Picks that make me bored are often the best picks made.
Round 3: Matt Koch – This was a great pick.  He's a reliever who could be a high leverage guy down the road.  The big key to Koch is he has a hard fastball and a sharp slider and could be in the majors in very short order.
Round 4: Brandon Kaupe – It seemed that people got more excited about this pick as they thought about it.  He's short (5'7") and Hawaiian and he plays SS and is a switch hitter.  Look at the video on him: Link.  He has a solid swing and a solid frame.  I don't know if he can develop into a "Hitting SS" but he might.  He also doesn't strike out… EVER.
Round 5: Brandon Welch – A really good pick in the 5th.  He might end up in relief but he has the "Stuff" to succeed as a starter if his 6'1" body can last through the innings.  He's already known as a dominating reliever and was regarded as a great closer candidate.  My bet is that he winds up in relief.
Round 6: Jayce Boyd – A little like Matt Reynolds in that he isn't hitting for power… YET.  Boyd also has a big body and a really sweet swing.  His swing seems to be a little be more naturally inclined towards power so I have higher hopes for him developing into a power hitter.
Round 7: Corey Oswalt – Drafted as a pitcher he also played SS.  As a pitcher he's already hitting 90 MPH and has good movement on his pitches.  As a hitter he has quite a lot of power.  I kinda wish the Mets wanted to use him as a hitter as this 6'4" SS with good contact and power is more intriguing than this solid framed pitcher with average stuff.  If he were to stick as a hitter you can bet he'd move to 3rd.
Round 8: Tomas Nido – Mayo and ESPN don't agree.  ESPN writes that Nido has some power but a long swing and GOOD defensive abilities.  Mayo doesn't believe in the defense.  Either way this was an 8th round pick and I'd seen Nido ranked as the #9 catcher in the draft.
Round 9: Richie Rodriguez – Sorta strikes me as Danny Muno.  He has little power with some speed and solid contact.
Round 10: Paul Sewald – He's a tall thin guy with a thin build.  He's got sink on his fastball and an 11/5 curveball that should play as he rises through the ranks.  Need to get more information on his velocity before I know much more.
Round 11: Logan Taylor – He's a big guy who is still very up in the air.  If the Mets manage to sign him I can easily see him being a steal with a FB already in the low 90s and a sharp breaking (if wild) curveball.
Round 12: Robert Whalen – Seems like the standard ilk of a 12th rounder.  He has a decent fastball and little else.  His fastball will need to improve and his breaking pitches will need to develop for him to be worth anything.
Round 13: Matthew Bowman – The general scouting report of low 88-89 with a height disadvantage doesn't sound great.  Apparently he threw 95 in a Met workout though.  If that's true… I'm happy.
Round 14: Chris Flexen – He's only 17… he throws 93.  There is some "effort" in his delivery but this is not the kind of guy I expect to find in the 14th round.  Could be a bargain!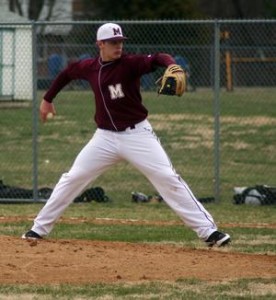 Round 15: Nicholas Grant – There isn't a lot of information available.  He's got a good frame and had a lot of success through high school.  Gave a decent interview to a local paper after an impressive game.