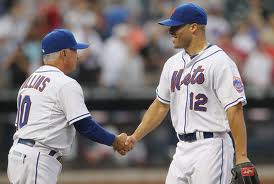 Scott Hairston has been pretty terrific this season.
Hairston has 99 ABs so far in 2012 and if he keeps up his current pace, he would finish the year with 286 at-bats. In the past 20 years there have been 1,702 players in MLB to finish a season with between 100 and 300 ABs and at least 75 games played. These parameters were chosen to look for guys who spent the majority of the season in the majors, yet who were not full-time regulars.
If Hairston finishes with 286 ABs and his current 162 OPS+, he would be tied for the sixth-best mark among players in this group.
It makes one wonder if Terry Collins is maximizing Hairston with his current playing time mix or if he would be better served to get one of the club's best hitters into the lineup more often. The injury to Jason Bay opened up more playing time for Hairston and the veteran has come through with flying colors, as he has a .293/.340/.626 line in 106 PA.
But Bay will be returning soon and Hairston figures to lose significant playing time. The injury to Mike Baxter eliminated whatever small chance Hairston had of being cut from the major league roster, as Vinny Rottino will likely be shipped out when Bay is activated. But with all indications that Bay will return to make outs as the everyday left fielder, Hairston will be mostly limited to pinch-hitting duties.
The possibility does exist that the Mets will send down Ike Davis, move Lucas Duda to first base and use Hairston as part of a platoon in right field. This would be an ideal situation for Hairston, who has absolutely crushed LHP here in 2012. Here are his splits:
vs LHP – .361/.400/.770 in 65 PA
vs RHP – .184/.244/.395 in 41 PA
The fans are ready to send Davis to Buffalo to rediscover his swing. However, Davis is less than thrilled with that plan and management has given no indication it is ready to send Davis down over his objections. So, perhaps the platoon to get Hairston's bat in the lineup can come at first base, where he could spell Davis?
Interestingly, Hairston, now in his ninth season in the bigs, has never played a single inning at first base in his career in the majors. Earlier in the year, Terry Collins vowed not to move Duda to first base to fill in on a temporary basis. But, Duda is again showing awful fielding numbers in right field, with the worst Defensive Runs Saved (-8) and UZR (-10.6) numbers of the 23 qualified right fielders.
It would appear easy for Collins to back off from his earlier vow to keep Duda in the outfield, saying that he absolutely has to get Hairston's bat in the lineup against LHP. Since Hairston's never played first base, it makes more sense to play Duda there when a LHP in on the hill. This way Duda still sees the majority of his time in the outfield, where theoretically he keeps improving, but once a week or so the pitchers get someone who can aspire to be league-average defensively out there.
Somewhere along the line, platooning became a dirty word. It makes sense why players are against it but managers should love it. The same skippers who bend over backwards to get the platoon advantage in the late innings pitching-wise are too chicken to do so over multiple ABs early in the game. It makes no sense.
At the bare minimum, Hairston needs to start against every LHP, especially with the lefty-heavy Mets' lineup. I would rather see him out there than Bay but because Hairston makes a tiny percentage of what Bay does, he'll ride the pine so the inferior player (at this point in time) can soak up the ABs.
It is an open question if Hairston can handle a full-time starter's load at age 32. He's never had more than 464 PA in a single season and he might be exposed if forced to face RHP on a regular basis. But there's no reason to limit him to a role as a late-inning PH where he gets just 3-4 PA per week. It's up to Collins to make sure he hits the sweet spot with Hairston's playing time.