They get swept, they sweep. They get swept, they sweep. That's how it's looked since Friday, June 8, when the Mets walked into Yankee Stadium, fresh off dropping two in Washington, with Johan Santana making his first nerve-wracking appearance since his no-hitter. It didn't go well.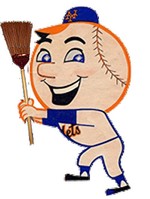 The gopher was well-fed by the time Sunday afternoon came around and the Yankees smirked their way to three victories. The Mets next limped down to Tampa, the fans fearful about the pitching they would face. We needn't have worried. The New Yorkers won all three games, posting 29 runs to the Rays' 9.
Chests sufficiently puffed out, the Mets returned home to face the Cincinnati Reds. They ran into a buzzsaw as a hot Cincy team looked like…well…a hot Cincy team. They managed just enough offense to soil everybody's weekend and walked away with three wins of their own.
Not knowing what to expect, the Mets welcomed the Baltimore Orioles to the friendly Citi. What a welcome they gave them! R.A. Dickey, Santana and Dillon Gee turned the Birds' offense into crab chowder. You guessed it, a sweep: 5-0, 5-0 and 4-3. This may not bode well, seeing as the Yankees are due in starting tomorrow night (6/22).
Perhaps.
And perhaps this unsustainable pattern will be broken this weekend. Your intrepid columnist thinks it will. In fact, I think the Mets will take two-of-three. Can't really put my finger on why. Call it home cookin', or call it walls of a more comfortable depth and color, or call it the right-now security of having Dickey on the hill this time – Sunday's game, in a marquee matchup with C.C. Sabathia – or call it a hunch. The starting pitching and the feast-or-famine offense seem to be feasting at the same time right now.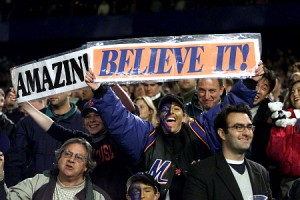 On last night's SNY telecast, Keith Hernandez reminisced about his former manager Davey Johnson expounding on the level of confidence that comes with being at least ten games over .500. The Mets aren't there, yet, but they could be by the time the calendar ticks to 7/8, the last game before the All-Star Break. They have 16 games 'til then. After the Yankees clear out and there's a full-time reversion to an all-NL schedule, they have three at Wrigley – I know what you're thinking: another S-word – then four in LA. The Phillies come in to celebrate the 4th, then the Cubs return the visit. If the Mets can win more than eight games during this stretch, the rest of the summer should prove worthy of all our interest. And if they can somehow muster a 12-4 mark – not bloody likely, but this is the year of "ya-nevah-know" – that will give them 50 wins at the break.
And that will make the rest of the summer.
Follow me on Twitter @CharlieHangley