I never thought that would be a headline. Coming into the year, I mostly bought the MSM narratives about the Mets' awfulness. I steeled myself against the inevitable onslaught of negative news stories, ridicule from the Bronx and Philadelphia, braying on the airwaves and early-season rain. Even after a 4-0 bolt out of the gate, I joined the doom-and-gloom brigade as soon as the first semi-bad news came over the wires and spent the spring warily regarding events and prospects of success, ever ready to bail when trouble loomed. Out of the corner of my eye, I could enjoy R.A. Dickey's remarkable performances, David Wright's resurgence on both sides of the ball, Daniel Murphy's consistent – if less than powerful – hitting: I still wasn't sold. I was convinced the entire structure was built on sand and would crumble at any moment.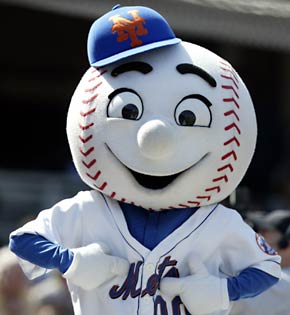 At this moment, I am extremely happy to be wrong. The events of June 1, took a flamethrower to my heart's ice block. I have given over. Oh, I'll still peer into the depths from-time-to-time, I'll take a typical fan posture of vast despair when things don't go exactly as planned, but as we hit game 81 – which I will attend in person, tonight – 2012 goes into my personal books in the "positive" column. I have seen things I never thought I would. From Ike Davis brushing away the crust of his horrid start and Johan Santana defying the medical experts to Dillon Gee and Jonathon Niese's quiet bolstering of the top two and some unexpected fine defense to go along with the occasional Keystone Kopism, this season has brought a joy to being I didn't think I would see. At least not until the dawn of Matt Harvey and Zack Wheeler, anyway.
In the middle of 2006, I said to a friend of mine that I was going all "Bobby Bo" that season: nothing would knock the smile from my face. Nothing did, until the unfortunate business of that October 19. We're almost back at that point six years later. Six years. Five years after seven-up-with-seventeen-to-play. Four years after the mini-me version of the same collapse. Three years after the parade of ambulances. Two years after Madoff. It seems like an eternity, yet not that long at all.
I'm a happy man.
Follow me on Twitter @CharlieHangley