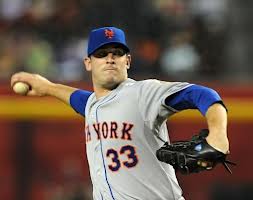 Matt Harvey sure looked ready for prime time last night. In his major league debut, Harvey pitched 5.1 scoreless innings, did not allow a run and broke Tom Seaver's franchise record for strikeouts in a debut. And for good measure, Harvey went 2-for-2 at the plate with a double. He finished the night with 11 strikeouts and it was fun to watch a Mets starter blow the ball past opposing hitters.
According to Brooks Baseball, Harvey averaged 94.88 miles per hour with his four-seam fastball and topped out at 98. According to FanGraphs, here are the average fastball velocities for the other starters for the Mets this season:
Niese – 90.6
Gee – 90.2
Santana – 88.4
Young – 84.4
Dickey – 83.4
FanGraphs does not distinguish between two and four-seam fastballs, and as Harvey had two fastballs that weren't four-seamers, his overall FG fastball velocity will be a few ticks lower. Still, this is a substantial difference in velocity.
The 2012 leaderboards show 17 qualified starters with an average fastball velocity of 93 and above. Roughly, every other team should have a guy who brings the big-time heat. Now with Harvey, the Mets have a starter that throws gas. Not only is it unusual for the Mets this season, it's something no pitcher with at least five starts has done for the Mets since they started tracking velocity in 2002. Mike Pelfrey averaged 92.7 with his fastball in 2008 but in that season he averaged 4.93 K/9 and did not have a double-digit strikeout performance.
EDGIN PROVIDES RELIEF – After giving up runs in two of his first three appearances with the Mets, Josh Edgin has delivered six straight scoreless outings, including Thursday night when he came on for Harvey with one out and two on and kept the shutout intact. In his last six games, Edgin has 6 IP, 4 H, 0 ER, 1 BB and 8 Ks. In that span he has a 14 percent swinging strike rate. Edgin was drafted the same year as Harvey and gives the Mets two pitchers on their staff from the 2010 Draft, the last by Omar Minaya.
NIEUWENHUIS CONTINUES TO STRUGGLE – Kirk Nieuwenhuis did not start Thursday night with the Diamondbacks throwing a lefty. But he came on as a pinch-hitter against a righty reliever and struck out. In the month of July, Nieuwenhuis has fanned 14 times in 37 PA for a 37.8 K%. It has been tough to watch him struggle after he did so well when he first came up. But overall Nieuwenhuis is performing exactly as he was projected to do in the preseason. Here's the proof:
| | | | | | | |
| --- | --- | --- | --- | --- | --- | --- |
| | PA | AVG | OBP | SLG | BB% | K% |
| ZiPS | 479 | .238 | .304 | .398 | 8.1 | 29.0 |
| Actual | 309 | .255 | .317 | .381 | 7.8 | 30.7 |
DICKEY'S STREAK SNAPPED – R.A. Dickey lost for the first time since April 18. His 16 straight starts without a loss ranks as the third-longest single-season undefeated streak by a Mets starter in franchise history. Here are the leaders:
18 – 1985 Dwight Gooden
17 – 2008 Johan Santana
16 – 2012 Dickey
14 – 2007 Tom Glavine
14 – 2006 Glavine
14 – 1989 David Cone
DAVIS HAS HR BUT NOT PRODUCTION – Ike Davis is tied for seventh among first basemen in the majors with 16 homers. But there is more to being a productive player, even for a player at a corner position, than hitting home runs. Davis has a (-0.5) fWAR and ranks 21st out of 24 qualified first basemen in the majors this season.
CEDENO VIES FOR MORE PT – When the Mets signed Ronny Cedeno in the offseason, he figured to provide quality depth at the middle infield positions. He has done that and more, exceeding expectations at the plate. Cedeno has excelled against LHP, with a .326/.367/.500 line in 49 PA versus southpaws this season. He got some starts at second base against lefties, but with Daniel Murphy breaking out of his slump those chances figure to dry out.
Perhaps the Mets could sub Cedeno for Davis against LHP. Davis seems helpless against any lefty with a breaking ball and has a .602 OPS this year versus southpaws. For awhile, the Mets used Justin Turner at first base when the opposing team started a lefty, but Turner was lacking at both the field and in the batter's box, with just a .550 OPS against southpaws.
UGLY JULY – Thursday night's win upped the Mets' record in July to 5-15. If they maintain that .250 winning percentage, it would be the worst mark in a full month since August 2002, when the team went 6-21 for a .222 winning percentage.