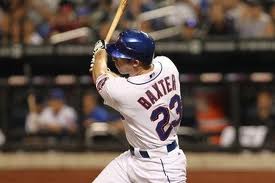 The Mets used 19 players in Monday's 8-7 win in extra innings over the Giants. The 18th player used was Mike Baxter, who entered the game as a pinch-hitter in the top of the 10th and delivered a key single. Thanks to some strong baserunning by Jason Bay, the hit established runners on the corners with one out. Rob Johnson hit into a fielder's choice to score the insurance run that proved to be the difference in the game.
It was Baxter's first game back after injuring himself running into the wall to preserve Johan Santana's no-hitter nearly two months previously. And he picked up right where he left off. For the season, Baxter is 9-19 as a pinch-hitter, which is tied with Justin Turner for the third-most pinch-hits this season in MLB.
Another reason this game felt the same as it ever was is that the Mets went on to a victory. The club is 25-16 when Baxter plays, including 17-12 when he enters as a pinch-hitter. Overall, he's got a .333/.400/.530 line in 75 PA this year.
Baxter was just working his way into more playing time before the injury. He had started eight of his last 10 games, including the night of the Santana gem. And it's likely he'll find plenty of starts the rest of the season now. Rumors have him platooning with Bay in left field. Even if Bay's 1-3 with two walks performance last night earned him additional time, Baxter could also be an option in right field now that Lucas Duda is in Buffalo.
It's just another chapter in what has been an unusual season for Baxter. He was removed from the 40-man roster, went unclaimed and was invited to Spring Training and won a spot on the Opening Day roster. His pinch-hitting exploits elevated him from 25th man to starter before the injury. Perhaps no other player in team lore cemented his status among Mets fans by getting hurt. Yet it will be impossible to discuss the first no-hitter in franchise history without mentioning the player who ran into a wall to keep the magic alive.
Interestingly, another injury is the reason Baxter is on the Mets in the first place.
He had a breakout season for the Padres in 2010 and made his major league debut that same season. But Baxter hurt his thumb the following year in Spring Training and wound up on the 60-day DL. The Padres tried to move him through waivers but Vice President of Player Development Paul DePodesta knew Baxter from their days in San Diego and the Mets scooped him up when he became available.
Despite struggling in 18 games with Buffalo, the Mets called up Baxter in the second week of August in 2011 and he proceeded to post a .791 OPS in 40 PA.
A Queens native, Baxter immediately became a fan favorite. The story starts off as another variation of "local boy makes good." However, while few fondly recall Ed Glynn, Baxter's catch in the Santana gem cemented his place in team history beyond "grew up near Shea." And now Baxter likely gets a chance to add "starter" to his list of accomplishments.