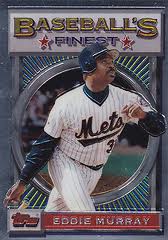 1993 TOPPS FINEST EDDIE MURRAY
Eddie Murray is one of four players in baseball history to have 3,000 hits and 500 home runs. Yet I think it's fair to say that while active Murray's reputation was based much more on being an "RBI man."
Murray came up in 1977 and won the Rookie of the Year Award, on the strength of his .283-27-88 season. Murray went on to drive in 80 or more runs in 17 of the next 19 years. The only two seasons he did not top this admittedly arbitrary mark were both truncated due to labor issues. In 1981 he led the league with 78 RBIs and in 1994 he drove in 76.
Even labor issues couldn't keep him from topping 80 RBIs in 1995, when he plated 82. The streak ended in 1996, when the 40-year-old Murray drove in 79 runs. He came back for one final year in 1997 but probably shouldn't have. Regardless, he ended his career with 1,917 RBIs, which at the time was eighth on the all-time list.
The strike seasons of 1981, 1994 and 1995 cost him a shot at 2,000 career RBIs. Still, no one should be complaining about 1,917, which now ranks 10th on the all-time list, as he has been passed by Barry Bonds and Alex Rodriguez since retiring.
The last year Murray drove in 100 runs was in 1993, the year of this card and his second and final season with the Mets. Basically no one remembers the '92-'93 Mets fondly and as they went a combined 131-193 (.404) it's easy to see why. These were the bleach-throwing, firecracker tossing Mets – "The Worst Team Money Could Buy."
Still, we can look at that 1993 season and see the 100-RBI season from Murray. The Mets went 13 seasons before getting their first 100-RBI season when Rusty Staub drove in 105 in 1975. It was 10 years later until another Mets player hit triple digits, when Gary Carter drove in 100 in 1985. It was an annual thing from 1985-1991, with exactly one Mets player driving in 100 each year.
No one drove in 100 in 1992 – Murray led the team with 93 and nobody else had more than 70. In the 103-loss season of 1993, there was little to cheer about except Murray chasing this round number. It took a giant push at the end of the season. After failing to drive in a run in a 17-inning game on September 29th, Murray had 92 RBIs.
But Murray drove in two runs in each of the team's final four games to finish the year with 100 RBIs. The 59-win Mets won their last six games of the season. But it was not a sign that the dark days were over. Dallas Green had yet to run Jeromy Burnitz and Jeff Kent out of town and he still yet to shred the arms of Generation K.
But this is about RBIs. It's not easy to drive in 100 runs for a team that loses 100 games but that's exactly what Murray did. RBIs are a raw stat and only half of one at that. Generally, we prefer ratio stats to counting stats because they provide context. Raw RBIs provide no context.
Generally, people who come to the plate with the most runners on base will drive in the most runs. In 1993, Albert Belle led the majors in RBIs (129) and he had the 12th-most runners on base (471) when he came to the plate. Joe Carter was fourth in RBIs (121) and he had the fourth-most runners on base (508).
To provide context, we look at the number of runners on base, subtract out HR from RBI and have Others Batted In (OBI). An average rate for a starting position player is around 14% and a mark in the 20% range usually puts you among the league leaders. In 1993, Carter drove in 17.3% of his runners, which is a good total. Belle drove in 19.3 percent of his runners, which is very good.
Murray drove in 20.1% of his runners, which was the fifth-best mark in the majors among those with at least 300 runners on base. Murray came up with 364, a far cry from what Carter did. In fact, if Murray had Carter's RBI chances in 1993, he would have tied Belle for the MLB lead in RBIs, despite hitting 11 fewer homers.
Murray had a very good year in OBI% in 1993 and in his career he is one of the best since 1974, when the data first is available in an easy search engine. Lifetime, Murray had a 16.33 OBI%, which is tied for 46th-best among those with at least 5,000 runners on base since 1974.
However, some of the names above Murray on the list might surprise you. Mark Grace has a 16.9 lifetime OBI%, Garret Anderson is at 17.0 and Magglio Ordonez is at 17.7 for his career. The all-time leader in this period is Juan Gonzalez, with an 18.5 mark.
Finally, to bring this back to the Mets – last week in this feature, I wrote about Doug Flynn. Somehow I didn't mention his 61 RBIs in 1979, when he batted 8th for 578 of his 580 PA. The 1979 Mets lost 99 games that year, so 61 RBIs out of the 8th spot in the lineup was not too shabby. But Flynn had an unusual number of RBI chances – 382.
Recall that Murray had only 364 runners with 640 PA batting third and 19 more batting cleanup in 1993.
Flynn had a 14.9 OBI% in 1979. There were 150 batters that year who had at least 300 runners on base. Flynn's OBI% ranked 76th. He did not have any great "RBI skill" that year – he drove in about a normal amount of runs given his chances.
*****
The 1993 Topps Finest is a really nice set. The previous year, Topps regular set had 792 cards. To go from that to the 199 cards in the '93 Finest set was quite shocking. Combine that with the etched metal design featuring all game-action shots and it was an impressive looking set. Of course at the time it was all about how expensive the cards were and that it contained a chase set called Refractors which was extremely difficult to assemble.
But as the speculators/investor started to focus primarily on the Refractors, collectors became able to pick up individual base cards (relatively) cheaply. This remains one of my favorite sets from the 1990s.
*****
OBI% numbers courtesy of the calculator at Baseball Musings. You can set the time frame for any period, including within seasons, you wish starting in 1974.