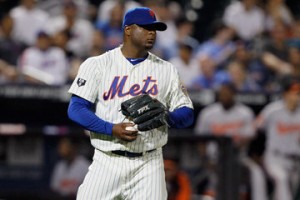 The title of this post begs to be asked.
Considering that Frank Francisco's last two outings were-to put it mildly-disastrous, and the fact that he had to be bailed out by Jon Rauch on both occasions, Terry Collins could be leaning towards making Rauch his new closer.
Ever since he came off the DL, Francisco has not been quite the same. In four games back from the DL, Francisco has tossed 2.2 innings and has given up eight hits and issued four walks while allowing six earned runs. Actually, the only time he looked good was when he first came off the DL on August 4 against the Padres when he recorded a two-out save.
Collins says Francisco simply hasn't had enough work. Hogwash!
I think Collins is just toeing the company line and spitting out half-truths and tired-out clichés. Collins has got to be thinking that he may have to switch to Rauch as his closer eventually, as Rauch twice has bailed out Francisco after letting almost insurmountable leads get edgy. Rauch has now had two straight one-out saves.
However, it's just not that Rauch has saved the Mets from catastrophe in their last two victories, but more or less he has been the Mets' most dependable and reliable bullpen arm in the past month or so.
I already went into detail here about how good Rauch has pitched. Ever since that post was published, Rauch has pitched in an additional six games consisting of 4.2 innings pitched and only allowing one hit with no walks in that time.
And aside from the one-out saves, Rauch has been used for entire innings and has looked fabulous in the process.
When the Mets signed both Francisco and Rauch in the offseason, neither was officially anointed the closer, although we all knew Francisco had the inside track. Considering that they flipped roles while they were teammates in Toronto last year, maybe a flip in roles could benefit both of them this year.
While, of course, Rauch has had his issues this year, he has been stellar recently and perhaps he should be given a chance. All Mets' fans would love to avoid the agita they get when Francisco comes into the game.
There is no long-term commitment to either pitcher. It's not like we are messing with anyone's development or psyche here. Francisco and Rauch are vets who know the business. With the Mets going nowhere this year, at least go with the guy who gives you the best chance for saves down the stretch.
If Rauch fails in the closer role, so what. Then, just put back Francisco there. It's not like the Mets would be screwing up some master plan here. Basically, what I'm getting at is play the hot hand.
With all this being said, the Mets should possibly entertain the idea of looking for someone else to close games for them next year. For all intents and purposes, neither Francisco nor Rauch has made good on their contracts and it would be a good idea if the Mets can rely on someone other than Francisco or Rauch to close out games next year.
Follow me on Twitter @Stacdemon