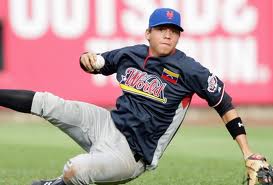 Wilmer Flores, 1B/2B/3B: This column is usually to bring attention to prospects not getting enough attention, but this week is different. To Mets fans that follow the Minor Leagues, Wilmer Flores is a prospect that gets a lot of attention and has been visible since he was 16 years old. However, in the mainstream sports media there is a lot to be desired. New York sports networks like SNY spend a lot of time talking about Matt Harvey, Brandon Nimmo, and Zack Wheeler, but I have not really heard them talk about Flores at all. So in retaliation to the lack of coverage Flores is receiving, this HYPE Files is a special edition entitled:
NOT ENOUGH HYPE!
After a disappointing 2011 where Flores put up a slash line of .269/.308/.380 with 9 HRs and 81 RBIs, he has enacted his revenge on pitchers everywhere in 2012. His first target was the Florida State League; a league he has struggled in for the past two years. Flores finally conquered the league with a slash line of .289/.336/.463 with 10 HRs and 42 RBIs in only 64 games. At the FSL All-Star break, the Mets rewarded Flores with a promotion to Double A Binghamton.
Flores rewarded the Mets by tearing Double A up. As of today, his slash line in Double A reads .323/.374/.506 with 7 HRs and 30 RBIs in 62 games. His combined 2012 Minor League slash line reads .306/.354/.484 with 17 HRs and 72 RBIs. Also, his strikeouts are down from 68 in 2011 to 59 this year and he has already walked 11 more times than he did last year (27 to 38). In other words, the 21 year old Flores has finally arrived.
There is only one knock on Flores at this point in his career – he does not have a position. He plays a decent 3B and 1B, but those two positions are taken on the Major League club by David Wright and Ike Davis respectfully. However, the Mets have been playing Flores at 2B since his promotion to Binghamton. If Flores can stick at that position he will be invaluable to the New York Mets. They have been searching for a 2B forever and if Flores can fill that position he can hold it down for at least the next 10 years. If 2B is not in his future, it would be worth a shot to try him out in the outfield and see if he can deliver decent defense out there.
Flores has absolutely torn the cover off the ball this year. He has displayed he can hit for average and power, produce runs, and get on base frequently. He can hit for power on a David Wright level – 20-25 HRs and 35-40 2Bs and that is something every Mets fan would sign up for. All the Mets really have to do is figure out where to play him when he is not terrorizing opposing pitchers. Keep faith that Flores will figure out a way to stick at 2B, LF, or RF because if he can he is one of the can't miss prospects the Mets have besides Harvey and Wheeler.
How's that for hype?