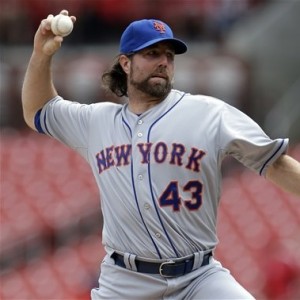 On Wednesday afternoon in St. Louis, R.A. Dickey became the first Mets to amass 18 victories in one season since Frank Viola and Dwight Gooden both achieved the feat in 1990.
With each win and with each quality outing, Dickey is solidifying his chances to become the first knuckleballer to win a Cy Young. If Dickey wins this coveted award, it could give legitimacy to a pitch that has too long been considered a 'gimmick' pitch. And if Dickey is to win the Cy Young, it will give the Mets fan something to hang their hats on in what has been an otherwise troubling, frustrating season .
Unlike how Jose Reyes won his batting title last year (bunting to get on base and then being asked to be taken out) and then bolting for his paycheck in Miami, if Dickey wins this highest honor for a pitcher it could help boost morale for a team in need of every single silver lining.
Dickey is everything you want in a pitcher. Dickey's a grinder, a competitor, a perfectionist, a wonderful humanitarian and above all else he is a winner.
After Wednesday's outing, Dickey is now tied for the most wins in the NL with Johnny Cueto, is second behind Cueto in ERA (by only six points mind you, as Cueto's ERA is 2.58, while Dickey's is 2.64) but absolutely destroys him in strikeouts as Dickey has 195 (third in the NL) while Cueto only has 149.
Most pundits claim the Cy Young is not about how valuable you are to your team and a team's record should not influence voters. Consider that Cueto has had another Cy Young candidate Aroldis Chapman closing games for him, while Dickey has had to carry the load for himself for most of his victories.
Pushing aside biases, there is no way Dickey should not win this award. If Dickey does not win then it will be evident that there will be some voters who will still view the knuckleball as a bastard pitch and that a guy who relies on it is getting by on smoke and mirrors. That would be an absolute shame if that were to be the case. Results are results. This is not a beauty pageant.
With Johan Santana accomplishing the Mets' first ever no-hitter and with Dickey perhaps winning the Cy Young award, this year will forever go down as a memorable season no matter how you slice it and one that could foster some hope for a bounce back season in 2013.
Now granted, there were some ugly, uninspiring moments that ruined most of the good vibes this year, if Dickey does win the Cy Young, it could mask what was an otherwise disappointing season.
I for one look forward to R.A. Dickey capturing that magical 20th win and then get awarded with ultimate hardware in the offseason. Considering the playoffs are not attainable, this will have to settle as the next best thing.
Follow me on Twitter @Stacdemon