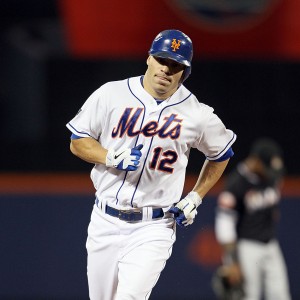 With the season rapidly and mercilessly winding down, this very well could be the last 12 games we see Scott Hairston in a Mets' uniform.
For a season that has gone south with each agonizing moment begetting another one, one of the constants (specifically on offense) through all the turbulence this season has been the play of Hairston.
Hairston came up big on Friday in the Mets' first win at Citi Field in what seems like a decade, as he went 2-4 with a home run and three RBI's. Then again, Hairston has come up big the whole season, as he has been a valuable asset from the start while playing mostly off the bench. Hairston now has 18 home runs on the season to go with 51 RBI's and a healthy .812 OPS.
However, this may be Hairston's swan song with the Mets, as he probably does not fit into the Mets' long-term plans (he is on a one-year $1.1 million deal). Also, considering the season he is enjoying, Hairston should be in line for a nice pay raise next year and he'll likely be out of the pay-range the Mets would be willing to offer.
Although these assumptions are not absolute, I view Hairston's chances of coming back to the Mets as slim and none.
That being said, I would like to dedicate this space for Hairston and thank him for his brief time with the Mets.
While his 2011 season was nothing to write home about (.235/.303/.470 slash line with seven home runs and 24 RBI's in 132 at-bats), Hairston more than made up for it with a terrific rebound season this year. Hairston's slash line this year now reads .267/.305/.506 in 330 at-bats.
What Hairston will be remembered most for this season was the numbers he posted against lefties. He simply assaulted lefties, as he posted a .297/.330/.564 slash line while mashing 10 of his 18 home runs against southpaws. Those numbers are amplified when you consider the clutch factor behind many of those hits.
This season's highlights (yes cynical Mets' fan, there are a few) will be centered on the pitching heroics of R.A. Dickey, Johan Santana achieving the first ever Mets' no-hitter and the emergence of pitching prospect Matt Harvey, but the play of Hairston should not get lost in the shuffle.
They say you don't appreciate the fine things in life until they're gone. Well, I have a felling the Mets will be longing for Hairston and his big bat next season as that production will not be easily replaced.
Follow me on Twitter @Stacdemon