Where have I been?
I need to apologize to you, gentle reader. Your intrepid columnist has been MIA – that's for "missing in action," not "as bad as the Marlins" – for the better part of a month. Chalk it up to a swirling vortex of work emergencies, vacations and the general suckiness of the New York Mets. As the Mets have proven to us time and again this year, it's not so much about how-many, but when: timing has been neither of our strong suits this year, and my absence reflects that directly. I'm back. Are you thrilled?
The Mets have limped to 70 wins and I'm still not sure how. Once it became evident that this was not the magical team we all figured it to be back in June, the season seemed to spiral out of all control. Amid the bad news, the gaffes, the guffaws and the grousing, what ripples of good news there have been have been swept out in the torrent. Jon Rauch has had a stellar second half? Who cares? Daniel Murphy still can't field. Bobby Parnell has developed his secondary pitches quite nicely since the middle of August? Who cares? The owners are horrible. Ike Davis has 30 homers and 88 RBI? Who cares? They never hit in the clutch.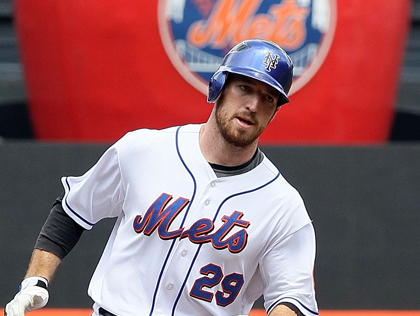 David Wright is second in the NL in bWAR? Who cares? He's gonna walk at the end of next year anyway. We fans have taken on the Jobian visage of a 14th century Trappist, alone in his Citi cell and having been shackled with a vow of silence. If it weren't for R.A. Dickey, Matt Harvey and Johan Santana's no-hitter, this season would be 1979's ugly little brother. And Citi Field is filled to capacity with fans disguised as empty seats. Even the most clear-eyed among us have questioned our fealty to this organization.
And yet…
I sport my new 7Line "LOYAL" t-shirt. I check in on the games. I have the fleeting thought that "Hey! If they go 8-1 these last nine games, they'll finish better than last year! Progress!" Sports fandom has a certain element of masochism attached – unless you're a Yankee follower, of course – and sometimes, a sublime season rolls your way and somehow it all becomes worth it: just ask the Washington Nationals. We still hope for that. We don't even notice it, but it's there.
It's what keeps us coming back.
Follow me on Twitter @CharlieHangley