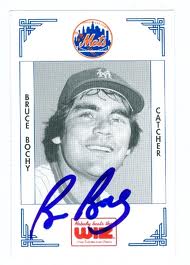 We know about the infamous Cubs Quotient that seemingly accurately predicts that the postseason participant with the most ex-Chicago Cubs on the roster will not go on to win the World Series, reflecting on the now 104-year championship drought that the franchise has had.
Well, can this be applied to New York Mets?  Probably not, actually, most definitely not, but tracing the history of former Mets on postseason rosters since 1962 is a topic for another day.  Today, it might be fun to see what the Mets Quotient is of the teams in the 2012 MLB Postseason:
First, well it is only fair we look at the departed Rangers and Braves.
The Texas Rangers, after going to back-to-back World Series were hoping for a third straight this year, even if having to go through the Wild Card to do it, did not have a single ex-Met on their roster, though they do have Mike Maddux on the coaching staff, and Tony Fernandez as a special assignment coach listed on their roster page on their website.
Likewise the Atlanta Braves only boasted an ex-Met on their coaching staff, pitching coach Roger McDowell.  Hmmmm, maybe there is a reverse Met quotient karmic thing going on.  Well we should hope so since the New York Yankees boast not a single former Met on their active roster, or their coaching roster!
Staying in the AL, the Athletics also sport not a single ex-Met player, but Bob Melvin's bench coach Chip Hale was a Met coach from 2009-2011.
Over in Detroit we get our first instance of a Met whom donned the uniform for a postseason game in 1999 Met Octavio Dotel.
In Baltimore you'll see the author of the amazing Game 6 2006 NLCS catch that is immortalized on Citi Field's Left Field Gate entrance, Endy Chavez, as well as briefly 2009 Met Darren O'Day.  Also on their Wild Card Playoff game they had briefly 2012 Met Omar Quintanilla, but did not put him on the ALDS roster.
Heading over to the National League squads, the Cardinals seem to have some decent ex-Met karma going with long time Cardinal "secret weapon" and coach, and former Met Jose Oquendo and early 1980s Met Dyar Miller on Mike Matheny's coaching staff, as well as ex-Met All Star, Carlos Beltran.
Staying in the Mid-West, the Reds do have two former Met infielders in Miguel Cairo and Wilson Valdez.
Heading over to the Nation's Capital, there is only one Met connection, but it's a biggie as Met Hall of Famer Davey Johnson provides the most historic ex-Met in the 2012 postseason as he is guiding the Nationals.
And finally out in San Francisco, it appears the Giants have the largest ex-Met contingency with pitcher Guillermo Mota, outfielders Angel Pagan and Xavier Nady, infielder Marco Scutaro and manager Bruce Bochy.
Well, what does that mean?  Are the Giants destined to go down in flames like supposed ex-Cub heavy squads?  Probably not, and certainly it doesn't mean you should root for the Giants because of the overload of ex-Mets!  But it's just a fun exercise in the minutiae of Met history and in some cases it does make you wonder about the one that got away.