Imagine the following scenario: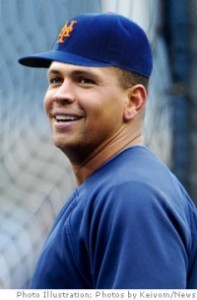 'Disgusted with his dismal performance in the playoffs and diminishing talents; the Yankees look to unload the contract of Alex Rodriguez so they can pursue a new direction.  Unable to afford to offer him the contract he feels he deserves, the Mets are forced to pursue a trade for David Wright.  The New York Teams swap players at their hot corners in an unprecedented move that angers, confuses and frustrates fans.'
Rodriguez is owed $28 Mil in 2013, $25 Mil in 2014, $21 Mil in 2015, $20 Mil in 2016 and $20 Mil in 2017.  His health is a major hurdle to an NL team but is there a point where Alex Rodriguez becomes palette-able?
Let us imagine that the Yankees are willing to eat 60% of A-Rod's Contract.  (Averaging out to a total cost of $9.12 Mil a year for 5 years) Let us also say that the Yankees are willing to take the final year of Jason Bay's contract off the Met's hands.  (Leaving the Mets an annual cost of $5.52 Mil for Mr. Rodriguez) Okay… but where do you play him?
The deal as I've outlined it so far: Clears the Metropolitans $6.8 Mil in 2013.  That money helps, but it's not enough money to bring in Shane Victorino or Michael Bourn.  You also have a DH/3B with nowhere to play.  That is… unless you trade David Wright.  The question is, Who wants him?  AND What could we get?
The name we've heard for a long time is Justin Upton.  The Diamondbacks are looking to save money and the Mets would love a star outfielder who can hit righty but do the diamondbacks want an expensive player like Wright who is entering his walk year?  No… But I'd bet the Yankees would.  So a three way swap is organized with the Yankees paying Arizona in prospects, the Mets getting Upton and the Yankees getting Wright.  It's insanity.
It would feel awful and make so many people upset… but it might also REALLY help the team.  With the additional savings between Wright and Upton's salaries, the Mets might have enough money to sign that leadoff hitter they don't have and they enter 2013 without losing any of their valuable young rotation pieces.
This is not a truly possible scenario.  There are too many reasons why it couldn't happen, but I like to explore the highly unlikely and nearly impossible.