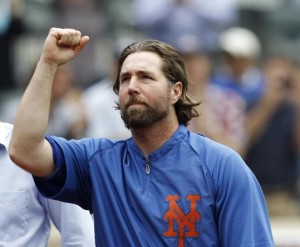 Call him C.Y. Dickey!
In what most thought to be a lock became a formality on Wednesday when R.A. Dickey captured the 2012 NL Cy Young award in a landslide. Dickey received 27 first-place votes en route to becoming the oldest pitcher since Dennis Eckersley in 1992—and first knuckleball pitcher—to win the prestigious honor. Dickey is the first Mets' Cy Young Award winner since Dwight "Doc" Gooden won the award in 1985.
This award caps off a remarkable season in which Dickey captivated the hearts of Mets' fans everywhere by throwing 27 quality starts, back-to-back 1-hitters and becoming the first Mets' 20-game winner since Frank Viola in 1990.
Dickey's final stat lines read like this:
20-6 record, 2.73 ERA, 1.05 WHIP and league-high 230 strikeouts in 233.2 innings pitched.
Dickey was indeed the story of the year for the Mets and maybe even all of baseball. Every time he took the mound, Dickey gave the Mets a chance to win. It's astonishing that Dickey won 20 of the Mets 74 wins this year. When you step back and grasp how unlikely this season was for Dickey, you would not be the first.
After climbing Mount Kilimanjaro in the offseason and releasing a book that disclosed his bout with sexual abuse, Dickey has truly conquered all obstacles and is resting at the mountain top-both literally and figuratively.
Dickey's story from prospect to flameout and then reinventing himself as a knuckleballer to now Cy Young award winner cannot be overstated enough.  Scripts in Hollywood are hardly this believable. That being said, don't be surprised if a big-screen adaptation of Dickey's story becomes a reality.
The thing is Dickey's story still has a couple of chapters left to be written.
So, what do the next couple of chapters have in store for Dickey? A better question is where are the next couple of chapters going to be written?
Hopefully the Mets can sign Dickey to a semi long-term contract so that the Mets could be put in the best position to succeed. However, I get the side that says trading him now while his value is at an all-time high is beneficial, as Dickey could land a bumper crop of prospects if he is dealt to a team in search of some pitching stability.
It's a tricky situation for sure, as you want to have someone on your roster that could draw fans to the stadium and give you a chance to win every time he steps on the mound like the way Dickey does. On the flip side, for a team that is still in a rebuilding mode, it would be great to get some reinforcements in the way of some young prospects.
Regardless, this is all about the here and now. This is about the moment Dickey and Mets' fans find themselves in. We should all applaud the season Dickey just had, as it couldn't have happened to a better guy.
Dickey's Cy Young award along with Johan Santana's no-hitter gave Mets' fans some solace this year in what was otherwise an extremely disappointing season. So there is always that.
So hip, hip R.A.! Here's to a Really Awesome season and hoping for more!
Follow me on Twitter @Stacdemon