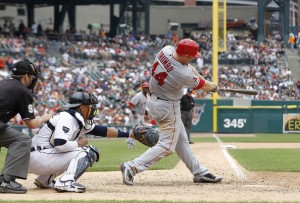 Surely all of you have heard the news of Josh Hamilton signing a lucrative five-year deal (worth approximately $125 million) with the Los Angeles Angels on Thursday. It's a move that is sending shock waves through the league.The Angels are making a strong push to make a run at the World Series while also tossing around money in a bid to compete with a their other free-spending L.A counterpart- the Dodgers.
With Hamilton in tow, the Angels have added another heavy hitter in a lineup that already includes Mike Trout and Albert Pujols. However, with Zack Greinke recently bolting the Angles to join the aforementioned Dodgers, the Angels could be in the market for an ace pitcher. Considering that the back end of the Angels' rotation includes the likes of Joe Blanton, Jerome Williams, Garrett Richards and the oft-injured and recently acquired Tommy Hanson, Los Angeles might be on the lookout for a nice price-controlled pitcher with ace abilities.
Enter R.A. Dickey and the Mets!
There may be no better trade partner more equipped to make a deal with the Mets than the Angels. With a surplus of hitters (specifically outfielders), the Angles have what the Mets need most: a thumping power-hitting outfielder (Mark Trumbo) and a center fielder with great speed and glove in Peter Bourjous.
According to a recent MetsBlog poll, most Mets' fans want to trade Dickey while his value is high. Although we all appreciate what Dickey has done for the franchise and the memorable moments he has provided for us in the last three years, this possible trade makes sense for both teams on a lot of fronts.
If the Mets offer up Dickey and perhaps another prospect(or maybe offer up, say Kirk Nieuwenhuis) and ask for Trumbo, Bourjos and maybe even Hank Conger (who is at least a palatable switch-hitting catching option), this has the makings of a deal that could work out for everyone.
The Mets would receive good, young cheap outfielders-and possibly a catcher-while the Angles would be getting a gifted ace and reigning NL Cy Young award-winner in Dickey. In this scenario both teams would get what they want. The Mets would continue with their platform of building for bigger and better things for the future. The Angels would continue in committing to going all in for a World Series trophy.
Granted I don't love the idea of trading away a fan favorite in Dickey, but as I have said in the past, sometimes the best decisions in life are the most difficult decisions.
Granted Trumbo is not that graceful in the outfield and while he did tumble down the stretch last year, he is a marked improvement over the other options the Mets have.  Last year Trumbo had a .268/.317/.491 slash line to go along with 32 home runs, 95 RBI's and robust .808 OPS. Trumbo's righty bat would look great next to David Wright and Ike Davis.
In Bourjous, the Mets would get an adequate leadoff hitter and a steals threat (which are two things the Mets severely lack) at the centerfield position. Bourjos lost his center field job to Trout last year and had a paltry .220/.291/.325 slash line, but if given the appropriate playing time he could be a solid everyday player.
And if you get Conger, you would get a switch-hitting catcher with a little bit of promise. Conger (who had an awful .167/.280/.330 slash line in only 224 at-bats last year) is not the ideal candidate as the compliment to Josh Thole, but he would only be a throw in and a lottery ticket at that.
If both sides see the merit in this trade, this is something that can get done. It should be interesting to see if Sandy Alderson agrees with this line of thinking and makes a pitch to the Angles in the coming days.
Follow me on Twitter @Stacdemon