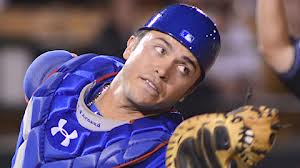 The Mets and Blue Jays have come to terms on a swap of players that has some people worrying about the future of the Mets.  After all… the Mets traded a bevy of prospects for Johan Santana.  The Mets, you will recall, traded: Carlos Gomez, Phillip Humber, Deolis Guerra and Kevin Mulvey for the Cy Young winning lefty who was going to be the Ace of their staff.  Critics of the Dickey trade point out that the prospects haven't really come to haunt the Mets in recent years but I think these critics are not looking at all the information.
The four prospects that the Mets traded for Johan Santana were not elite.  Nobody in baseball considered them elite.  The Mets didn't let go of their top prospects (Mike Pelfrey and Fernando Martinez) they let go of a lead-off hitter who couldn't get on base, starting pitchers who never factored above the #3 spot in the rotation and a distant prospect who showed promise but was too young to tell.  At the time people thought that the Met offer wasn't even the best offer the Twins got, but that is behind us.
I would also point out that Carlos Gomez hit 19 HRs and stole 37 bases in 2012 and that Humber has shown flashes of being a very useful pitcher at a few points.  Neither player will haunt the Mets for all time, but I'd take the pair over Santana's bloated contract in a heartbeat… today.
Travis D'Arnaud and Noah Syndergaard are not Carlos Gomez and Phillip Humber.  D'Arnaud is Toronto's top prospect (their Zack Wheeler) and Noah Syndergaard was their #3 (or Brandon Nimmo).  Prospects are always a gamble but consider that the Mets got a haul that in many ways is superior to the best the Twins were ever offered for Santana.
Travis D'Arnaud
Bats: Right, Throws: Right
HT: 6'2" WT: 195 lbs
Drafted by the Phillies in the 1st round of the 2007 draft (37th overall).  D'Arnaud has played 6 seasons in the minors since then, steadily rising up the ranks from the Gulf Coast, to the New York Penn, to the Sally, Florida State, Eastern and Pacific Coast Leagues.  He's shown a better bat throughout his career than many Met prospects I could name but let us do a little comparison:
Player A: .341/.441/.619, 18 HRs, 57 RBIs, 91 Games
Player B: .333/.380/.595, 16 HRs, 52 RBIs, 67 Games
Player B you should recognize from the 811 posts that list D'Arnaud's numbers from 2012.  Player A is none other than David Wright, who split time in 2004 between AA and AAA.  I'm not saying that D'Arnaud is the next Wright or that the success is comparable (The PCL is hardly as tough to hit in as the IL) but the point should be made that D'Arnaud is a different kind of prospect.  In some ways because he's already ready to contribute to the major league squad.
Noah Syndergaard
Bats: Left, Throws: Right
HT: 6'5", WT: 200 lbs
Drafted in the 1st round of the 2010 draft by the Toronto Blue Jays (38th overall).  Syndergaard has played three seasons in the minors: starting in the gulf coast league, graduating to the Appalachian League and then to Midwest League after 18 innings in the Northwest League.  He's a solid prospect but let's do a little comparison.
Player A: 2.60 ERA, 103.2 IP, 1.080 WHIP, 10.6 K/9, 2.7 BB/9
Player B: 3.52 ERA, 115 IP, 1.322 WHIP, 10.1 K/9, 4.1 BB/9
Player A is Noah Syndergaard at 19 in full season A.  Player B is Zack Wheeler at 21 in High A.  Am I saying that Syndergaard is better than Wheeler?  NO!  I'm saying that he's on the same basic track (given his age) to eventually compete as a #1 pitcher.  By 2016 you could be looking at a Met rotation of Wheeler, Harvey, Syndergaard.
This all assumes that these PROSPECTS are going to succeed to the same degree in the majors that they have in the minors.  The point is that this is not the same deal as we made with the Twins for Johan Santana.  This is more than I thought we'd get from the Blue Jays and I think it's enough that we will be happy come 2014.