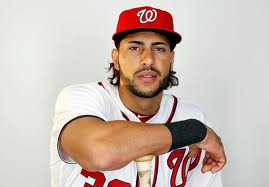 The offensive pipe dream for the Mets this offseason has been to swing a trade for Justin Upton. Now that we've seen what the parameters for an Upton deal might be from the vetoed deal with the Mariners, it's way past time to move on to a more realistic target. Recently, another righty hitting power outfield bat was put on the market when the Nationals re-signed Adam LaRoche, which makes Michael Morse expendable.
In one of the most underrated trades of the past five years, Washington traded Ryan Langerhans to Seattle for Morse. For two players who are both outfielders, they are essentially polar opposites of one another. Langerhans bats and fields left, is an outstanding defensive outfielder and has all of the punch of non-alcoholic beer.
Meanwhile, Morse bats and throws right, is a poor defensive outfielder and he drew MVP votes in 2011 thanks to his .910 OPS with 31 HR. So, why on earth would the Nationals consider moving a 30-HR bat? Washington is set in the outfield after the acquisition of Denard Span and by bringing back LaRoche, first base is closed now, too, leaving no room for Morse.
The Nationals are set with position players and their rotation is full, too. So that means they are most likely looking for a reliever or a prospect in return for Morse. Josh Edgin would make a lot of sense, being a lefty reliever who could be a late-game option, but it's questionable if the Mets would be willing to deal one of the few people to have a bullpen spot locked down.
But before delving any further into what it might take to get him, let's step back and look at the pros and cons of acquiring Morse. Actually, the pros can be summed up in one sentence – he's a power hitting righty bat for the outfield. So, what are the cons?
Morse is a poor fielder. He's so bad that he's likely to give Lucas Duda a run for his money to be the worst defensive outfielder in the majors. By all rights he should be either a first baseman or a DH.
While he had a great year in 2011, he was not nearly as good in 2012. Morse posted a .791 OPS in 430 PA last year. However, he suffered from hand and wrist injuries, which are well known for sapping a player's power. All of the recent news surrounding Morse has been about his availability and there have been no reports that I have found specifically dealing with how his injuries have progressed.
Finally, Morse turns 31 in March and is in the final year of his contract, which pays him around $7 million this season
Actually, it's probably worthwhile to list one other thing, since this seems to carry so much weight for a lot of people. If the Mets were to acquire Morse – read the next part in your "end of the world voice" – THEY WOULD HAVE TO TRADE WITHIN THE DIVISION!!!!! Oh, the horror! Oh, the humanity! Oh, won't someone think of the children!
The "trade in the division" argument gets thrown out so often that it clouds judgment more than it helps make good decisions. The idea is to improve your team, to put out the best possible squad you can given your constraints. The Mets have enough payroll constraints as it is, it makes virtually no sense to add additional constraints like trading within your division. Look, the Nationals have to trade within their division in a deal with New York, too.
If they deal Morse to the Mets, they are helping a team they went 14-4 against last year. Why would they want to help a team that essentially allowed them to post 98 wins? Because the prime directive is to optimize the talent on your own squad and accept that other clubs are doing the same thing. To do otherwise is to cut off your nose to spite your face.
If you have two great trade offers and you are deciding which one is better – then it's fine to invoke the "trade in the division" clause. It should be a tiebreaker, nothing more.
It would appear that the Nationals would be in the catbird seat with Morse, having a middle-of-the-order hitter available to deal. However, their leverage might not be as great as you would imagine on first blush. Morse's 2012 season certainly calls into question whether 2011 was a fluke. Morse's defensive issues mean most clubs wouldn't see him as an outfielder. Finally, Morse himself has indicated that he does not want to be a DH.
On the plus side for Washington is that it can simply keep Morse and even if everyone stays healthy he should have no problem getting 300 PA. The Nationals have already displayed a willingness to keep a player stashed away, as they did just last year with John Lannan, as they had him perform most of the year in Triple-A, only to utilize later in the season in key moments.
If a team gets Morse, it will have to give up something of value. The Nationals are not going to trade him just to be rid of him. There are a lot of teams kicking the tires on him and his price will not be cheap.
The Mets should be thinking of which prospects they would consider dealing. The team has developed a bunch of B-/C+ type of players and it should know which ones they think will take a step forward and which ones are less likely to become impact players. The Mets are going to have to give up someone who has promise in a deal for Morse.
The first name that jumps to mind is Luis Mateo. He's got a fastball that approaches triple digits but it's an open question if he'll ever have anything else. If you think Mateo will develop into a star, substitute someone else who carries legitimate upside. Since the Nationals are looking for a lefty reliever, how about Robert Carson and Cory Mazzoni?
Because so many teams are interested in Morse, it's unlikely that he'll wind up on the Mets. Nevertheless, Sandy Alderson should be in contact with Mike Rizzo, his counterpart in Washington, to see what it would take to get Morse in Queens.