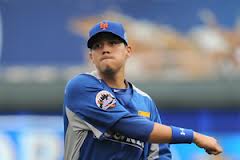 There is no argument that Wilmer Flores possesses one of the most potent bats in the Mets minor league system, earning him a spot in every Mets top 10 prospect list that has been published this offseason.
The 21-year-old Flores made great strides in his game last year, finishing with a .309/.349/.479 slash line splitting time between Hi-A St. Lucie and AA Binghamton, career bests in all three categories.  What's even more impressive is that Flores hit slightly better at AA, posting a .311/.361/.494 slash; excellent considering the average age in the Eastern League is 24.
At 6'3", 190 lbs., Flores still is a little lanky and his frame should continue to fill out in the coming years and along with it, even more power should develop, making Flores a potential offensive juggernaut.
The biggest knock on Flores is his lack of a defensive position.  He was originally a shortstop, but his inept fielding at that position forced him to be moved, splitting time at third and second base in 2012, with somewhat better results.  His below-average speed and range coupled with a strong throwing arm profile better at third base, but David Wright has a stranglehold at that position in the majors.  His defense at second base was passable in 2012, but 27 games is hardly a large enough sample size to definitively say that Flores can stick there.
In a perfect world, Flores would be able to play second base competently and be allowed to further develop before being called up to the Mets sometime in late 2014 or early 2015.  After all, if the Mets are going to have a second baseman who can hit but not play particularly good defense, the one with power is a better option.
This would finally settle the Mets' decade-long quest for a second baseman to competently replace Edgardo Alfonzo[1], and would address their need for more right-handed power in the lineup.
If it turns out that Flores can't handle second base, the team will have no other choice but to stick him at either third or first base, both of which are currently occupied by Wright and Ike Davis, respectively.  Since moving Flores to the outfield is not an option owing to his poor defense; his role with the Mets would transition from a future regular in the lineup to a trade chip.
When the team is finally looking to buy, Flores could be the centerpiece of the deal.  The market for Flores will be limited, unfortunately, since team picking up Flores would have to be either an American League team, who would use him at DH, or to a team in need of a corner infielder.
Sound off in the comments:  Should the Mets play Wilmer Flores at second base when he's ready despite how bad the defense may be, or should they look to trade him to address another team need (e.g. outfield)?
Follow Joe Vasile on Twitter at @JoeVasilePBP
---
[1] Players to play at least 20 games at 2B for the Mets since 2002: Roberto Alomar, Joe McEwing, Marco Scutaro, Ty Wigginton, Danny Garcia, Ricky Gutierrez, Jose Reyes, Jeff Keppinger, Miguel Cairo, Kazuo Matsui, Marlon Anderson, Anderson Hernandez, Jose Valentin, Chris Woodward, Damion Easley, Ruben Gotay, Luis Castillo, Argenis Reyes, Ruben Tejada, Alex Cora, Justin Turner, Daniel Murphy, and Ronny Cedeno.