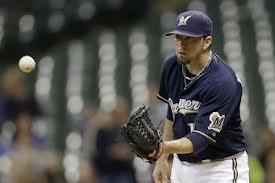 Thursday we learned that the Mets signed Shaun Marcum to a one-year deal and today we learned the terms – one year, $4 million plus up to two million in incentives. Perhaps it's just a coincidence but FanGraphs lists Marcum's 2012 season – 124 IP, 3.70 ERA – as being worth $6.2 million dollars.
There's many ways to spin a contract when it's signed and here's mine on Marcum – The Mets think there's a reasonable chance he'll be able to provide some innings in 2013 but they wrote incentives into the deal because there are enough questions surrounding him that it's not realistic to expect even 120-something IP.
My question is: Did the Mets offer this deal to old friend Chris Young or was Marcum the preferred option between the two? In Marcum's final eight starts of 2012, he had a 4.32 ERA in 41.2 IP. Meanwhile, in Young's final eight starts, he had a 3.09 ERA in 46.2 IP. This is not a cherry-picked start point. Instead, it's when Marcum returned from the DL and all of his outings until the end of the year.
Marcum made two trips to the DL last year and has a history of elbow problems. Young has his own injury history, but he took a regular turn in the rotation since being inserted there on June 5th and did his best pitching of the year down the stretch.
No one will ever accuse me of being a Young fan. However, I find it curious that the Mets offered this much money to Marcum, who at least on the surface seems to be just as much an injury risk as Young. Perhaps the Mets are banking on the move from Miller Park to Citi Field to be a successful one for Marcum. But I would be curious to know if the Mets made a similar offer to Young.
SHOVELING THE … SNOW WITH PAVANO – Perhaps the best part about the Mets coming to terms with Marcum is that it should end the pointless pursuit of Carl Pavano. Since an 18-win, 3.00 ERA season in 2004, Pavano has had just one year with an ERA under 4.30 and in the last seven years he has a 4.59 ERA and a 1.340 WHIP. Last year he had a 6.00 ERA before being shut down after 63 IP.
And not only does Pavano lose a suitor with the Mets going elsewhere, he also severely damaged his chances of getting a guaranteed contract when he ruptured his spleen while shoveling snow. It never ceases to amaze me the dumb things that rich athletes do. Pavano has made in excess of $71 million in his career but he wouldn't pay some neighbor's kid to shovel his snow?
BYE-BYE HAIRSTON – After receiving a one year, $1.2 million offer to return to the Mets for a third season, free agent Scott Hairston finally landed the multi-year deal he was seeking from the Cubs, as they inked the veteran outfielder to a two-year, $6 million deal. Not quite the 2/$8 that I predicted during the latter stages of the 2012 season, but significantly better than what the Mets were offering. It always felt like the Mets considered Hairston nothing more than a fall-back option so hopefully this means the club has bigger fish to fry in the outfield.
BOURN TO RUN FOR THE METS? – While the Marcum news was the big official item coming from the Mets this past week, there were renewed and intensified rumors surrounding Michael Bourn. The club is investigating having MLB amend its compensation rules. Currently, a team having one of the top 10 picks does not have to forfeit its first-round selection if it signs a free agent whose former club extended a qualifying offer.
The Mets finished with the 10th-worst record but currently have the 11th pick because the Pirates are receiving a compensation pick at #9 for their failure to sign their 2012 first-round pick. This is a situation that should have been easy to forecast ahead of time and language should have been written into the new CBA addressing this point.
Yet it was not addressed and now there is controversy. MLB is unlikely to rule on the issue before Bourn signs with a team, so if the Mets are adamant about holding on to their spot at #11, they will not be able to sign Bourn. Earlier I mentioned how I thought the Mets should go ahead and sign Bourn regardless of losing the #11 pick and the possibility that they might only lose their second-round selection just makes it more appealing for the Mets.
METS BRING BACK INJURED LEFTY – The Mets also welcomed back lefty reliever Pedro Feliciano. You might recall that Feliciano was the club's workhorse LOOGY before Tim Byrdak. Feliciano gave the Mets many good years out of the pen and when he left, they received a compensation pick that turned into Michael Fulmer. As if that wasn't good enough, he signed with the Yankees and did not throw a pitch in the majors for them for the duration of his two-year deal.
Now Byrdak and Feliciano can rehab together in their quest to get back to the majors. Can't you just see the Cheshire cat grins from Alderson, Collins and Warthen as they imagine a bullpen with four lefties? The fun they could have with mid-inning pitching changes if Byrdak and Feliciano could team in the pen with Robert Carson and Josh Edgin! And whatever you do, don't spoil their pleasant daydreams with reminders of how many innings that the rest of the bullpen will have to absorb…