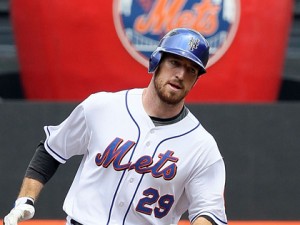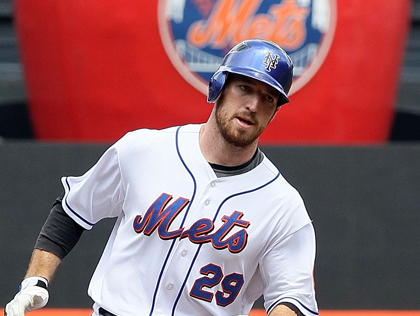 Mets pitchers and catchers report tomorrow in Port St. Lucie, officially kicking off a new year of baseball. This time of year is generally filled with optimism and "in the best shape of my life" quotes galore. Though Ike Davis doesn't quite go that far, he does note that he's feeling much better this spring than last spring
Last year, Davis was recovering from an ankle injury that caused him to miss most of the 2011 season. On top of that, he was also fighting what was reported to be Valley Fever. The combination sapped his energy and, as he told Adam Rubin of ESPN.com, he"…had to limit a lot of things last year as far as workload."
By all accounts, Davis is feeling much better and potentially poised to have a monster year at the plate. Specifically, fans are excited to see if Davis can top the 32 home runs he hit last year, quite a feat considering he hit 27 of them from mid-June to the end of the season.
Just how many home runs can a healthy Davis be expected put up? It's not unreasonable to expect him to hover at or above last year's total on a consistent basis. He is certainly the biggest home run threat in the current Mets lineup and, in that aspect, one of the most dangerous home run hitters the Mets have had in recent memory. In fact, he's the most prominent home-grown Mets home run hitter since Darryl Strawberry.
In the spirit of optimism (and hope, I guess), and assuming nothing goes terribly wrong for Davis, it's worth analyzing where he could potentially end up on the list of Mets home run leaders should he spend his entire career with the team. This is perhaps premature, but a fun exercise nonetheless.
Last month I wrote a piece discussing the history of Mets home run hitters. In short, the list is not very remarkable. The table below lists the top ten Mets career home run leaders:
The totals there are rather unimpressive, to say the least. Strawberry and Piazza top the list, though neither of them spent their entire career with the team. Wright will probably pass them both in the coming years, though that is a result of his longevity with the team rather than his being an elite slugger. Strawberry flamed out (to put it kindly) and Piazza spent the first half of his career with the Dodgers.
Imagine what the list would have looked like if Strawberry had a long and lustrous career with the Mets. This is where Davis could shake things up. Again, assuming he spends his career with the Mets and doesn't go off track, Davis could potentially be at the top of this list in the not-too-distant future.
Beyond the totals, Strawberry and Piazza were also two of the most prominent Mets home run hitters when considering AB/HR, or at-bats per home run. In their time with the Mets, Strawberry had a AB/HR ratio of 15.5 and Piazza came in at 15.8. Davis is not quite at that level, but he is not far off with a 16.2 career ratio.
Davis averaged 521 ABs in his mostly two full seasons (2010 and 2012), so that will be the projected number used for future seasons. With that in mind, his current AB/HR projects to about 32 home runs per year. At that rate, Davis would pass Strawberry's total in about 7 years. That's assuming his ratio doesn't improve, which it very well could. It's also not out of the realm of possibility that Davis could have a few seasons where he breaks the 40 home run mark.
Of course, two seasons worth of data is an extremely small sample size and these numbers assume he has no major setbacks. But this is the start of Spring Training, and optimistic thinking is in full force. Take it in, folks, and enjoy watching your talented first baseman. You could be watching the future Mets Home Run King.