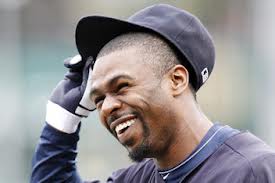 The offseason is winding down, and the Mets still have a small bit of business to deal with. Michael Bourn still remains unsigned, and the Mets are one of the only suitors. The problem is that if the Mets sign Bourn, they may have to surrender their eleventh overall pick because of the new draft-pick compensation system. However, the Mets, The Major League Baseball Players Association or Boras could file a grievance that would be ruled on by an arbitrator in the event that the Mets wish to sign Bourn. Since the Mets were truly the 10th worst team in baseball their pick should be protected. If the Mets do get the grant it becomes more of a question of how much they should they pay for Bourn than whether or not they should sign him.
Bourn has a lot of value wrapped up in his legs. He's a monster on the base paths, and he's arguably one of the best defensive center fielders in the game. When a player ages, it seems as though the first thing that goes is their legs. For a one-dimensional player like Bourn, losing his legs would probably result in diminishing any of the value he has as a player. However, being 30 years old doesn't mean that he's automatically going to be terrible, and we can probably expect Bourn to have at least two highly productive years from his legs, and then probably start to decline.
Mets fans shouldn't be vehemently opposed to signing Bourn because of fear of a massive decline. Bourn will still be an effective player in 2013, and at least until 2014. However, the other problem is how much money the Mets should pay for him. Luckily, the San Francisco Giants may have set the price for the Mets in signing Angel Pagan. In the table below are Angel Pagan's stats and Bourn's stats from 2010 to 2012.
| Player | AVG | OBP | SLG | wRC+ | FLD | BsR | WAR |
| --- | --- | --- | --- | --- | --- | --- | --- |
| Pagan | .281 | .334 | .415 | 105 | 1.2 | 21.5 | 11.2 |
| Bourn | .279 | .346 | .376 | 99 | 35.3 | 28.6 | 15.2 |
When we look at the basic statistics, we can see that Bourn and Pagan aren't really that much different offensively; Pagan has a little bit more power and somehow Bourn is a little more selective. However, their offensive profiles are really not that different in the sense that they're both speed oriented. We can most likely attribute the difference in WAR to Bourn being a significantly better fielder than Pagan. Since they have the same basic skill set, there really should be no reason to worry about Bourn performing. Most observers don't worry about Pagan under-performing his contract, and since Bourn is very similar to Pagan statistically, they shouldn't worry about Bourn declining, either. Given that Pagan signed a four-year, $40 million deal with the Giants, that could be a good starting point for the Mets to consider in negotiations with Bourn.
A five-year, $75 million deal like the one that B.J. Upton got may seem like a justifiable contract for Bourn. However, there are a few differences between Upton and Bourn. Upton is two years younger than Bourn, and therefore probably has more value since he's going to be able to produce more prime years for the Braves than Michael Bourn would for the Mets. Unlike the Mets, the Braves don't need to worry about surrendering a draft pick since they have been a winning team for the past four years, and therefore the qualifying offer was never really needed as leverage to sign Upton. The combination of age and a lack of interest due to the qualifying offer is what makes Upton more expensive than Bourn. Therefore, the Mets should be able to get Bourn at a cheaper price than Upton.
Unfortunately, Bourn probably isn't going to get the same exact contract as Pagan. Rumor has it that Scott Boras, Bourn's agent, wants $15 million per year, but since there hasn't been much of a market for Bourn, the Mets may be able to meet them halfway at $12.5 million per year. It seems as though Boras is between a rock and a hard place, in that spring training is starting and his client is still not signed. It's probably likely that the Mets get Bourn for a heck of a price because of the leverage they have in the situation. Given the lack of market for Bourn, and the season starting right around the corner, it wouldn't be unlikely that the Mets get a bargain price for Bourn.
A deal for four years, between $40-55 million, would be ideal. Then again, Boras does have a long history of signing clients to one-year deals, but that seems pointless because it does not permanently fill the Mets' void in the outfield. However, one of Boras' bargain multi-year deals with an opt-out clause, is the most probable — as much as I would hate to see it.