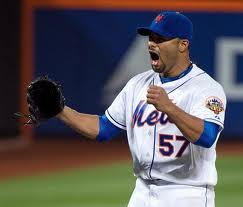 Just in case there's any confusion if Johan Santana was upset with the New York Mets, one team official told the Daily News "This wouldn't be the time to approach him about helping with any team functions" on March 12.
Supposedly, the star and General Manager Sandy Alderson spoke the following day and neither holds ill-will against the other. But if that communication did not happen, it would/could pose major problems for New York.
Santana – the Mets ace who missed all of 2011 recovering from major shoulder surgery in 2010, missed three weeks last July with a sprained ankle and was shut down in August with constant inflammation in his lower back – is on the outs with team management despite being the face of the franchise for $25.5 million this year.
The southpaw reportedly arrived in Mets camp last month with a desire to pitch in the World Baseball Classic and what GM Sandy Alderson described as not baseball shape. They officially denied his request on Feb. 18 and reports came out days later that a lack of arm strength would delay his Grapefruit League debut.
But on March 4, Santana threw an unscheduled bullpen session. Skipper Terry Collins said the right thing to reporters: it's more important to prepare slowly and properly than rush through it to prove Alderson wrong.
Alderson said "too much" had been made of Santana's setback on March 7, but reports surfaced two days later about a minor issue that could slow his spring even further. Pitching Coach Dan Warthen said any new fatigue is not related to his voluntary bullpen session and is willing to work at Santana's faster pace.
It's probably just a coincidence, but the timing of this clash of egos is ill-fated. Santana-gate began around the same time the relationship between Hall of Fame snub Mike Piazza and the team cooled into a "lull." The cold war in Port St. Lucie took a turn for the worse while David Wright is off with Team USA in the World Baseball Classic.
Wright is the unofficial captain of the team, but Santana is definitely on the short list of candidates. He's the bulldog of the team, fighting through 134 pitches for New York's first no-hitter and throwing a three-hitter on short rest in 2008 to keep the Mets in the playoff race until the end. There's never a shortage of fire in his gut, even if it's burning at the management.
That could also be a problem with the young prospects. At worse, the impressionable youth see Santana's anger towards team officials and begin to imitate it. At best, it limits how much he can teach them. He is a great fielder, a surprisingly good hitter and has plenty of experience to impart on teammates of any age, all in addition to his signature circle changeup.
The mid-70s speed of his changeup makes it an effective counterpart to a fastball in the low-90s and places no stress on the elbow – unlike breaking pitches like the slider. Since his first full year as a starter with Minnesota in 2004, Santana has thrown more than 3,000 pitches in six of eight seasons and was on pace to in 2009 before having surgery in late August. Until 2009, he was always within the top 25 for total pitches thrown in a season. Even though his pitches per inning has dropped from mid-14's to 16.6, Santana's fastball-change up combination still makes him effective.
Santana throws his changeup 24.6 percent in an average year, peaking at 31 percent in 2009. He was right around his 59 percent average for fastballs in 2012 but threw his slider – his third best option – an uncharacteristically high 19.7 percent of the time. The speed on his fastball continued it's slow decline down to 88.4 MPH, but his changeup velocity also dropped, to 77.3 MPH, which should preserve the change in speeds that makes him so dangerous.
Strictly from a performance standpoint, Santana has to succeed in 2013 if the pitching-heavy Mets are to think of contending in the second half. The outfield is a certified disaster and the bullpen is clear as mud. The infield has potential and the starting pitching could be a plus; both will have to carry the team to finish above .500. Santana is the only starter with tremendous stuff and a track record – Jon Niese is close, but Matt Harvey is too young and Dillon Gee will always be in the back of the rotation.
Last year he racked up 117 innings, but blew up after his no-hitter on June 1. He finished the season with a 4.85 ERA and 1.33 WHIP. The crew here at Mets360 anticipates the southpaw will finish with 161.2 innings and a 3.45 ERA. That seems highly unlikely given that Santana should start the season on the DL, although it's more unlikely that Shaun Marcum will last an entire year unscathed, creating more holes than super prospect Zack Wheeler can fill alone.