As we all know, Spring Training statistics mean next to nothing. The hot young hitter finds all his power sapped when the wind shifts from left field to right. The normally rubber-armed hurler runs into a "dead arm" period. Some players simply don't perform well in the Florida or Arizona sunshine, but thrive under October clouds. It's one of the few areas in baseball where results are irrelevant.
For a team like the Mets, however, Spring Training results are all-important. A team that's universally regarded as a no-better-than-72-win mob has to drum up enthusiasm during February and March if it has any dream of filling its stadium in April and May. For a team that's an afterthought in its own city, any good news on the field must be trumpeted. Once the season-proper gets underway, attendance will become a function of winning percentage: the stands will populate as the W total rises. Until then, fans of such a team need to find their own small pleasures and reasons for whatever scant optimism may exist.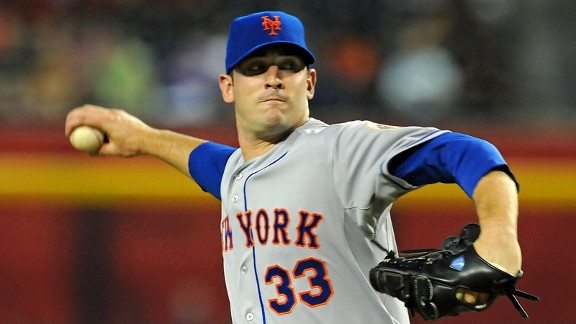 Enter Matt Harvey.
In a ten game sampling last year, it became apparent to anyone paying attention why he was a number-one draft pick a couple of years ago: the kid could flat out throw and had an idea about what he was doing out there. That's as pleasurable a combination as you can find in a young pitcher. As training camp has worn on, it's become apparent that he also has the attitude everyone looks for. He's come off in interviews — and even casual interactions with the media – as a driven, determined young man who demands near perfection from himself. He has made five starts so far in spring training, the fourth of which – a five-and-a-third-inning, six strikeout performance – saw him visibly chiding himself as he left the mound for not finishing the inning and for surrendering three runs. Yes, it's just Spring Training, but your intrepid columnist has found himself paying fairly close attention when Harvey is scheduled to pitch. He has not been disappointed. If the results from Port St. Lucie can be transported to Queens even semi-intact, Met fans will have the opportunity to perk up every fifth day. Yes, you take all Spring stats with a grain of salt, but a WHIP under 1.00, an 11.782 K/9 rate and a 2.59 ERA – what we see at the moment – could take on Verlanderian properties if repeated when it counts. And if that can be enough to keep us interested until Zack Wheeler and Travis d'Arnaud show up, that could also be enough to keep us excited for 2014, without having to rely on ginned up Florida stats.
2013 is going to be a tough year for the Mets: that seems to be a given. But if the second half of this year delivers even a fraction of these young players' promise, there's a chance the same can't be said for 2014.
Follow me on Twitter @CharlieHangley