1984 TOPPS TIFFANY DAVE JOHNSON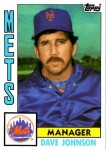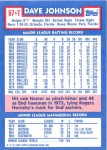 I slept with this card under my pillow the other night, hoping thoughts of a successful season would seep into my brain osmotically.
Of course, the cruel irony is that the mid-'80s Mets are alive and well and living not far from me in Washington, DC, with an older and just-as-wise Davey Johnson at the helm.
Johnson showed up in 1984 with a respectable big-league resumé, a few brief years of minor-league managing experience, and a perfect Chevron mustache. He was replacing the tandem of George Bamberger and Frank Howard, who had steered the club to a 69-93 record in 1983.
What the Mets went on to achieve from 1984 through 1988 was nothing short of amazing, with Johnson becoming the first NL manager to lead a team to 90+ wins in each of his first five seasons.
Translated into the modern wild-card format, these results would have equated to five straight playoff appearances– as it is, the team won it all in 1986, broke hearts by coming close in 1988, and owned the five boroughs and LI for most of the Reagan years.
But rather than look jealously at Johnson and his current Nats, I'm going to draw mental parallels between the 1983 Mets and the 2013 Mets. I'm going to view Terry Collins as a one-man Bamberger/Howard, and hope that our next Davey will show up in 2014, bold and brash and ready to lead the Mets back to the top.
Damn, it looks like the osmosis might be working…