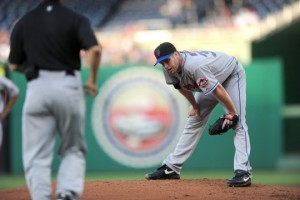 According to a recent interview by the New York Times, former Mets pitcher John Maine was very up front in regards to how the Mets training staff and pitching coach Dan Warthen had handled his last injury with the ball club. 
Maine says,
"My shoulder was being held together with duct tape at the time. They knew everything that was going on. They all knew. It was obvious. You don't go from throwing 94 to 84 miles per hour. They knew my condition. I was 100 percent upfront about it; I didn't lie about it. At the time it wasn't so much pain, I just didn't have anything". 
In response, Warthen called Maine "a habitual liar". Without getting involved in the he said-he said drama that always emerges via media outlets, this does make fans wonder if it is merely an isolated incident. After all, how many times has a player had "shoulder fatigue" or a "sprained oblique" and those injuries turn into the player losing the entire season? Other teams have players that suffer these types of injuries, yet they seem to only miss the minimal time. 
What is the difference between them and the Mets? Perhaps it's the training staff. The Mets have not had a good training staff since the early 2000′s, it seems. Perhaps John Maine has a point. Even if he is being perceived as a liar, his comments bring to light the one aspect of the organization that always seems to get a free pass, yet are in extremely important part of the team. 
If a manager had as bad of a track record as this medical staff does, that manager would have been fired at least a dozen times by now. If it was a player with that track record, they would have been cut. It begs the question, why do they get a pass? This is a time for GM Sandy Alderson and COO Jeff Wilpon to take serious consideration to this issue. 
They have several young and talented players ready or nearly ready to make a major impact for the next decade. In the hands of this medical staff, we could see a repeat of Generation K. Now is the time to reevaluate the medical staff. If the Mets will be reevaluating manager Terry Collins in the off season as to whether or not he is the right man to manage the young up and coming talent at the MLB level, why should they not then reevaluate the medical staff that will be responsible for treating these young players when they have a tweak or a pain. 
After all, the last thing the Mets can afford for their future is a sprain that turns into a tear that the staff somehow missed. Again. For the 100th time.