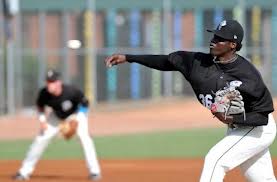 Domingo Tapia:  I like Tapia… partially because saying "Domingo" is pretty fun but also because he's got some of the best "STUFF" in the system.   If the man could get away with throwing only fastballs he'd be golden, but that isn't the case with most players and it's not likely the case with Tapia.
Scouting: At 6'4" 190 Lbs. makes Tapia a suitable size for power and sustainability.  The question isn't his physical makeup but his pitching makeup.
Fastball: He hits 95-96 MPH with regularity and makes that old radar gun say 98 and 99 on occaision.  It's not impossible to think that it could read out three digits eventually.  The fastball is a 2-Seamer and has some good sink and Tapia is working on a 4-Seam delivery that would add to his versatility.
Secondary Pitches: Tapia only REALLY has one.  He throws an 88-90 MPH change that tends to catch too much of the plate.
ETA: Tapia is in Port St. Lucie and will hopefully earn a promotion to AA by the end of the year… or at least by 2014.  He HAS to learn another breaking pitch or be converted to relief but… that's not so bad because he has the stuff to be a top-flite closer.
Mets Top 20 Prospects:
1.
2.
3.
4.
5.
6.
7.
8.
9.
10.
11. Domingo Tapia, RHP (A+) [2015 Rotation Battle OR Closer]
12. Cory Mazzoni, RHP (AA) [2014 Back-End Depth OR Middle Reliever]
13. Kevin Plawecki, C (Full Season A) [2016 Catching Depth]
14. Hansel Robles, RHP (Full Season A) [2016 Rotation Battle]
15. Gabriel Ynoa, RHP (Full Season A) [2016 Rotation Battle]
16. Aderlin Rodriguez, 3B (A+) [2016 1B or DH]
17. Jack Leathersich, LHP (AA) [2014 Bullpen… 2015 Closer?]
18. Cory Vaughn, OF (AA) [AAAA]
19. Jacob deGrom, RHP (AA) [2014 Bullpen]
20. Steven Matz, LHP (Full Season A) [2016 Bullpen]