After 10 games this season, Ike Davis has a .128/.244/.205 slash line.  Those who want to focus on the positive will point out that he's doing an excellent job with a 13.3 BB/9 and how nobody can look good when they possess a .154 BABIP, which will certainly go up in the weeks and months ahead.
Also, Davis had a .139/.205/.306 slash line after 10 games last year and he recovered to hit 32 HR and drive in 90 runs.
Still, it's hard not to be frustrated by Davis' slow start and one can't help but wonder why he abandoned the batting stance he had so much success with in the second half of last season.  Let's look at three screen captures of Davis in the batter's box.  The first one is from April of 2012.
Here, Davis is standing almost straight up in the box.  Pitchers pounded him on the outside part of the plate, particularly with breaking stuff that left Davis mostly helpless.  Compare this early stance to what Davis used at the end of the year.  This one is from September of 2012.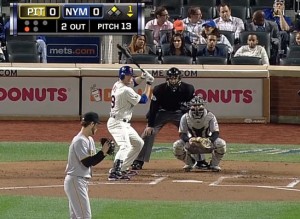 Instead of being upright, Davis has a very noticeable crouch to his stance.  He also appears to be more spread out in the box.  And his hands have moved from being near his uniform number to being up by his face.  This was the September 24th game against the Pirates, the one where he hit two homers, the second one which gave him his 30th HR of the season.
The last two months of the season, where Davis was using this batting stance, he had an .894 OPS despite a .278 BABIP.  He had 12 HR and 41 Ks in 210 PA, easily his best extended stretch of the 2012 season.
It would seem like a no-brainer to carry that stance into the 2013 season.  But a look at the last screen capture, taken during Matt Harvey's gem against the Twins, and we can see that this is simply not the case.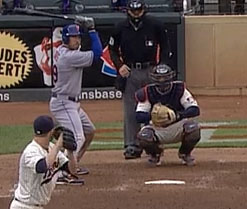 He's not as straight up and down as he was in April of 2012 but his hands are now completely over his head and he appears to be further away from the plate compared to last September.
This is a bottom-line business and right now the results are just not in for this latest stance.  Davis deserves a little while for his luck to even out but hopefully if he continues to struggle, Davis will switch back to the stance he had so much success with the last two months of the 2012 season.