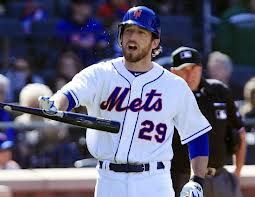 It's the time of the year when everybody seeks out the guy who seems to be struggling the most, says he sucks, and then calls for him to be traded.  The culprit this year: Ike Davis.
Coming into Sunday's matchup with the Nationals, Davis owned a .161/.254/.321 slash line and was striking out in 28.6% of his plate appearances.  Pretty ugly numbers, especially when you consider his slow start last season.
This has lead to articles, such as Matt Meyers' at ESPN New York, claiming Davis as the poor man's Carlos Pena, and many comments on this site as well as others saying that he has been a disappointment, a chronically slow starter, not a part of the future, and needs to go.
This kind of talk is silly and needs to stop.
Now.
Other than being a complete overreaction to a whopping two weeks worth of games played, it completely ignores the other factors that have hindered Davis' production.
For exhibit A, I present his 36-game sample in 2011.  Slow starter?  I think not.  A .302/.383/.543 slash in April and parts of May disprove that pretty quickly.  In a more limited sample in 2010, the slash line is very similar.
So, now we come to the case of his terrible start last year.  I am 100% willing to write off last year as a lost season for Davis, ignoring everything that he did, even if the 32 home runs hit help to make my point.
Why?
Davis suffered from a nasty bout of Valley Fever during spring training, a disease that derailed the promising career of recently-retired Conor Jackson, and has been known to be deadly.  As a matter of fact, in the 1950s and 60s, the United States military tried to develop it as a biological weapon, originally as an incapacitant, than later as a lethal weapon.  It is still on the CDC's list of Biological Select Agents and Toxins.
When that is all taken into consideration, ANY wrong that Davis did at the plate last year could and should be excused (with obvious exceptions being anything mechanical not attributed to the illness).
As for this year, let's all chill out over a 15-game sample.  If it ends up being mid-May and he's still hitting like Jeromy Burnitz circa 2002, then there may be reason for legitimate concern, but right now is the time to be calm.
I understand the frustrations with Davis' production, but if we, as fans, simply give it time, Davis could bloom into the player the Mets hope he can become.
Until then, we'll have to deal with being frustrated by weak groundouts to second base, line drives that go right at fielders, and a high K-rate.
And for those of you saying Ike can't hit lefties and is a platoon player at best, may I point you in the direction of a terrific article by Mark Simon, who talks all about Davis' adventures against southpaws.
Follow Joe Vasile on Twitter at @JoeVasilePBP.