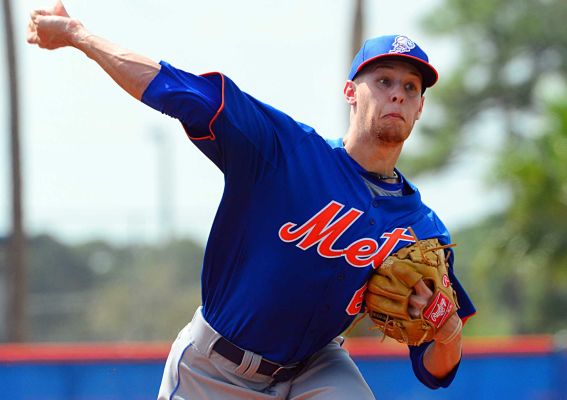 Earlier, my friend Dan Stack made some great points regarding the promotion of pitching phenom Zack Wheeler sooner, rather than later. Your intrepid columnist can't help but agree. Of course there's no guarantee that Wheeler will match the near-perfect Matt Harvey in either technique or temperament – the way Harvey's been dealing, it's barely possible to consider that – but there is talent there. If scouts, prospect handicappers — like Toby Hyde and John Sickles — and Sandy Alderson are to be believed, Wheeler has the stuff to be a star in the major leagues. Heck, Alderson thought so much of Zack Wheeler's potential, he deemed Carlos Beltran a reasonable price.
Slowly, steadily, Wheeler has climbed the ladder of the Mets' organization. At each stop, he encountered a rocky beginning as he dealt with a combination of growing pains and a getting-comfortable-in-the-league period. Even this year, when he's supposed to be crashing the gates in Flushing, he made many in the offices and bleachers nervous, showing bouts of inconsistency and eminent hittability in the dry Las Vegas air. The walk totals piled up – the ol' bugaboo, "command of the fastball" was the absent element – but so did the strikeout totals. That was the thing that observers could hang their hats on. Wheeler has definitely demonstrated a knack for making hitters swing and miss. In his past two starts, however, he seems to have put it together – high strikeouts, low walks, few hits, scant runs allowed. In the hitter-friendly Pacific Coast League, this qualifies as good news.
Is he ready for the big time? If his most recent starts are to be believed, the answer is a resounding "yes." Are the Mets ready for him? From a competitive standpoint, absolutely. As Dan pointed out in his piece, Jeremy Hefner, Shaun Marcum and Dillon Gee have not been up to snuff. This is not to say they've been horrible, far from it. Hefner has been betrayed by shoddy defense and the general offensive doldrums the Mets are experiencing right now. Marcum is still trying to build up stamina after a stop-start kind of training camp. Gee has had inconsistent command – there's that word again – coming off last season's major health issue. The addition of Wheeler would certainly give the back end of the rotation a jolt and strengthen the bullpen at the same time: Hefner is a more natural relief pitcher, currently miscast as a starter. From a PR view, the timing would be excellent. Wheeler coming in would lend some credibility to what looks like an already-lost season: a glimpse of good times ahead, if you will. It might put a few extra backsides into those shiny Citi Field seats when he pitches, a consideration not lost on Fred and Jeff Wilpon. Besides, it's May.
Which brings us to what may the biggest sticking point to the whole proposition: is this ownership willing and capable to start Zack Wheeler's arbitration clock early and have him achieve the dreaded "Super Two" status? Can the Wilpons absorb the hit that will surely come with Wheeler's arbitration eligibility? They must already be dreading the day that Harvey submits his contract request two years from now. As with everything Mets, it all comes down to the shaky nature of the Wilponian finances again.
Naturally.
Follow me on Twitter @CharlieHangley