1989 TOPPS BOX-BOTTOM KEITH HERNANDEZ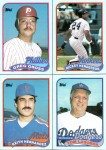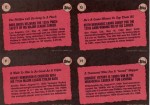 Box-bottom cards are Spinal Tap-ian in both name and concept.
They are the 18-inch Stonehenge of cards. These cards go to 11.
Donruss began producing cards on the bottom of its wax boxes in 1985, and Topps picked up the glove in 1986.
Donruss came to its collective senses quickly, and stopped printing the cards after the 1987 set; Topps, however, kept it up until 1991. Perhaps this persistence was informed by the company's success with Bazooka box cards throughout the '60s…
This 1989 panel is printed on light-blue stock, and features as random an assemblage of late '80s talent as you're ever going to find.
The Keith Hernandez portrait on the obverse differs from the action photo in the regular set, and the card-back design is an ugly canvas of red and black.
It's like, "How much more black could this be?" and the answer is, "None. None more black."
Given the nature of how the cards were presented, it is difficult to find well-preserved copies today. Even so, there is very little demand for these box bottoms, which were clearly an idea that crossed that fine line between stupid and clever…