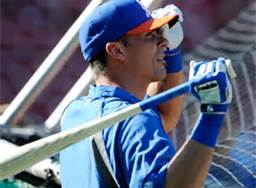 There's probably nothing more depressing than being released by the worst team in baseball. However, Rick Ankiel, who was released by the Astros last Sunday and signed by the Mets on Monday, luckily has another opportunity with a starting job. The Mets, however, have shown that they are truly desperate by signing the pitcher-turned-outfielder to a major-league deal. The deal is obviously not a big one and is considered to be low-risk, but what's the point?
The Mets outfield, as anticipated, has been awful. In the first month-and-a-half of the season, Mets' outfielders have combined to hit a line of .215/.296/.387, which is good for a wRC+ of 90. Offensively, their outfielders have been completely unproductive. They aren't getting on base, nor are they really doing anything to create runs. Given the lack of production, it would make sense to bring in another outfielder to try to switch things up. However, Rick Ankiel has had massive contact problems. This year he has had a contact percentage of 64% (81% is considered average), and last year he had a contact percentage of 74.6%.
There's a reason Ankiel was released by the worst team in baseball. If you don't make contact you're not going to be producing very well at the major-league level. Part of the reason that Ankiel is hitting a line of .203/.244/.500, is that he's striking out a lot, and not drawing walks. This is not anything new for Ankiel this season, and is consistent with his performance throughout his career.
Ankiel is probably not going to provide much with his bat as ZiPS projects him to end the season with a line of .213/.271/.415 with 13 homers. The Mets obviously didn't bring him in for his bat. Since his bat won't provide the Mets much other than the occasional home run and a lot of strikeouts, the Mets must be expecting some decent fielding. The Mets outfielders have a combined for a meager UZR of -11.9. However, Ankiel has not been a good fielder in his career, with a career UZR of -7.8, although as a former pitcher, he does have a great arm in the outfield.
Add it all up and after 31 games this year, Ankiel has a 0.0 fWAR. He is contributing exactly what we would expect a replacement level player to do if given a chance.
Ankiel is the epitome of replacement level, and is not going to do anything above average. In fact, the Mets could probably find someone else in their system who could provide as much value as Ankiel is projected to, therefore he is replaceable. He will provide a homer here and there, but at the end of the day Ankiel will not make a difference. He's just another player that the Mets are going to use in the outfield in attempts to make the outfield look not too terrible.