"The knuckle-curve has changed Parnell's career."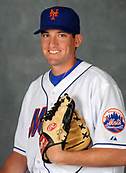 This is what Gary Cohen said during the at-bat Sunday by Dioner Navarro, right after Bobby Parnell followed a 95 mph inside fastball with a breaking ball at the knees on the outside corner. After going upstairs with the third pitch, Parnell completed the strikeout with another curve in the dirt. Parnell faced three batters, got two strikeouts and picked up his sixth save of the season.
When Parnell came up he threw gas and not much else. He was famous for two things – strikeouts and an elevated BABIP . He also had a reputation for not being able to pitch in the ninth inning. The idea that he would evolve into a top closer was almost laughable.
After a rough stretch when he was elevated to closer after the trade of Francisco Rodriguez, I wrote an article called, Bobby Parnell: He is who we thought he was.
The article was accurate then but it simply no longer applies now. And the reason is, as Cohen notes, that Parnell now has an effective off-speed pitch to go along with his heater. Prior to adding the pitch, Parnell was a generic middle reliever. Sure, he could get some strikeouts but he could also give up hits at the worst possible team. And neither outcome was a surprise.
But in Spring Training 2012, we heard about how Parnell had added the knuckle-curve, taught to him by Jason Isrignhausen, and how he was going to sacrifice velocity for movement and command. And unlike most Spring Training fluff pieces, this turned out to be true.
Parnell had an outstanding year in 2012 but there were still concerns over how he would do as a closer. Critics pointed out to his history of poor performances in high-leverage situations and figured him as a guy who would continue to struggle with the game on the line in the ninth inning.
But coming into today's game, Parnell had a .410 OPS in High Leverage situations, a total that will go down once you add in the 0-3 Cubs hitters put up against him in the ninth inning of a one-run game. Parnell now has nine strikeouts and has only allowed five hits in 35 ABs in High Leverage situations.
His record now stands at 4-0 with 6 Saves and a 0.93 ERA. He has a 6.0 K/BB ratio and an 8.38 K/9. While he's been incredibly lucky with his strand rate (85.7) and BABIP (.204) he still has a 2.91 xFIP, compared to a lifetime 3.65 mark in the category. Any way you slice it, Parnell has had an outstanding year to this point.
Since adding the knuckle-curve (alternately described as both a curve and slider by others, including the PITCHf/x coding systems) prior to the 2012 season, Parnell now has a 2.15 ERA with 78 Ks and 23 BB in 88 IP. Additionally, he has a 1.136 WHIP and has surrendered just 4 HR. In short, he's been terrific.
With this year's All-Star game in Citi Field, one can make a reasonable case for Parnell to make the All-Star team. He does not have the save totals of other top closers in the league but the rest of Parnell's numbers stack up with anyone in baseball. David Wright and Matt Harvey seem locks to represent the Mets at this year's All-Star game.
And if he continues his current pace, Bobby Parnell will be right there with them.