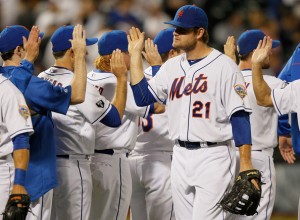 During Spring Training Mets fans hoped that the projected outfield wouldn't be as bad as the doomsayers had predicted. "Worst outfield ever" was a common theme parroted by numerous media outlets. The outfield was definitely lacking in talent, but there was no way it could be that bad. Right?
As it turns out, the Mets outfield has been very bad this season. To find out just how bad, we'll examine a few statistics from FanGraphs. However, as Mets360′s own Brian Joura discussed earlier this week, Mets starting left fielder Lucas Duda is quietly putting together a solid if unspectacular year. He really doesn't deserve to be lumped into the travesty that is the 2013 Mets outfield.
For this exercise, we'll key in on a few statistics for both the Mets outfield as a whole and Duda specifically. All statistics are up-to-date through 6/1/2013. Note that "rank" for the Mets outfield is against all MLB outfields while for Duda it is against all MLB left fielders only. Also, it's still pretty early in the season so small sample size applies here. First up is On-base Plus Slugging (OPS).
| OPS | Mets OF | Duda |
| --- | --- | --- |
| Value | .683 | .810 |
| Rank | 27th | 13th |
The Mets outfield as a collective are ahead of only the Nationals, Twins, and Marlins in OPS. Duda, on the other hand, is 13th among all MLB left fielders so far this season. That's actually pretty incredible considering how down on Duda most Mets fans have become. Next up is Weighted On-Base Average (wOBA).
| wOBA | Mets OF | Duda |
| --- | --- | --- |
| Value | .300 | .351 |
| Rank | 27th | 14th |
Essentially, wOBA is a catchall offensive statistic that more accurately captures a hitter's offensive production than OPS. Here again we see the Mets outfield right at the bottom of the MLB and above the same three teams. Likewise, Duda is right in the middle of the pack for left fielders. Next we look at FanGraphs Wins Above Replacement (fWAR).
| fWAR | Mets OF | Duda |
| --- | --- | --- |
| Value | -0.1 | 0.2 |
| Rank | 28th | 23rd |
Again, the Mets collective is right at the bottom and above only the Twins and the Astros. Duda is near the bottom as well at 23rd. However, note that fWAR takes defense into account. While we all wish that Duda could magically become at least an average defensive left fielder, that simply will never happen. He's dead last in Ultimate Zone Rating (UZR) among left fielders, which is a testament to his offensive output thus far. In fact, Duda is top ten among left fielders when considering just the offensive aspects that make up fWAR.
This is a small subset of statistics but imagine what the Mets collective outfield performance would look like if Duda's numbers were taken out of the equation (super incredibly bad?). This is all to say that the Mets outfield, as a whole, is actually meeting expectations. In this case, that's a bad thing. The problem lies in the way forward. It's clear that the Mets can live and maybe even thrive with Duda in left field, but right field and center field are going to need massive upgrades for that to work.
Of course, that's pretty obvious to even the most casual Mets fan. The trick is finding the players that represent those upgrades. There are no upper level outfield prospects on the horizon, at least none that are relatively close, so where does Sandy Alderson snag these upgrades? Well, it will have to be a combination of smart drafting, trading, and free agent signings. Easier said than done, but Alderson is going to have to start dipping into the Mets assets this off-season to make it happen. The large amount of money coming off of the books and the organizational pitching depth could go a long way to shore up the outfield woes, and Alderson will need to do so soon if there is a realistic chance that this team will be competitive sooner rather than later.