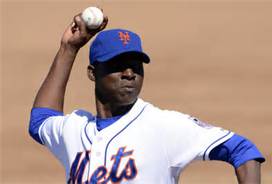 With all the pomp and circumstance surrounding Zack Wheeler's major league debut, most likely occurring later this week, the future of Mets baseball is rapidly approaching.
The future appears to be built on strong starting pitching, anchored by Wheeler and Matt Harvey, and a slew of quality arms in Savannah, St. Lucie, and Binghamton waiting in the wings.
The next pitching prospect that should make an appearance in Flushing is Rafael Montero.
There has been a lot of buzz surrounding Montero recently, owing to his dominating performance at Double A this season, and he has crept his way up the Mets prospect rankings.
Montero has outperformed most expectations this season, posting a high 27.6 K% and a low 3.8 BB%.  He sports an 0.92 WHIP in Binghamton and opposing batters are hitting just .203 against him.
He even made a spot start for Las Vegas on May 21st, and pitched 6.2 innings, struck out five, walked one and allowed only two runs.  Despite the successful start, he was quickly returned to Binghamton where he has made three starts, and here's his combined numbers; 20.0 innings pitched, 18 strikeouts, 11 hits, four walks, and zero runs allowed, earned or otherwise.
All this success has gotten the fan base excited, and justifiably so.  Fans often ask Mets beat writer Adam Rubin if there's a possibility of Montero seeing major league action this year.
There's no doubt that Montero has been great this year, but let's not get too far ahead of ourselves.  He still has a lot of work to do before he can face major league hitters.
Before the season began, there were plenty of questions about whether or not Montero could even survive in Double A, because so much of his success is derived from his excellent fastball command.  A pitcher can thrive in the lower levels of the minor leagues on fastballs alone, but against more advanced hitters, more advanced secondary offerings are required.
This is part of the reason that different prospect rankings had him ranked behind Michael Fulmer, Luis Mateo and Domingo Tapia at the beginning of the year.
While the plus-plus fastball command is great to have, and will work well in the majors to help set up his secondary pitches, but those secondary offerings are just not very good yet.
According to reports, his slider is improving, but it has been baby steps.  It is a low-to-mid 80's offering that is reportedly very sweepy and lacks any kind of downwards tilt.  Montero also has troubles throwing the pitch for strikes, meaning opposing hitters can ignore it until they get a hanger to mash.
Montero's changeup, on the other hand, has been improving at a better rate.  He throws it about eight to ten miles per hour slower than his fastball, a good velocity differential for a guy who sits in the low-to-mid 90's.  Like with the slider, Montero doesn't miss many bats with the change, but it is the better pitch right now.  With some more work and polish, it could develop into an average pitch, which would go a long way towards helping Montero succeed in Triple A and the Major Leagues.
If he gets called up to Las Vegas when Wheeler joins the big club, and the secondary pitches improve a little bit more, it would not be unreasonable to expect Montero to be a mid-season call up in 2014.
Unless there is a Matt Harvey-like progression that takes place, the ceiling for Montero is in the best case a number three starter, but that's all the Mets need him to be.  In a rotation that will prospectively feature Harvey and Wheeler as a one-two punch followed by Jon Niese, having a number three starter fourth in the rotation is a nice luxury for a Mets team hoping to contend for a playoff spot.
Joe Vasile is a play-by-play announcer and radio host.  You can check his website out here.