The Mets' short-season affiliates got their seasons underway this past week. Those affiliates are, in order from most advanced to least, the Brooklyn Cyclones (New York-Penn League), the Kingsport Mets (Appalachian League), and the GCL Mets (Gulf Coast League). The Cyclones are at the short-season A class-level while both Kingsport and the GCL team are rookie level.  Though the Mets have two teams in the Dominican Summer League (DSL), they will not be discussed in detail here.
These teams consist of the players in the Mets' system furthest away in terms of making any impact at the major league level, but are fun to keep track of nonetheless. They are the youngest and rawest players so refinement of their skills and approach to the game trump actual numbers for the most part. Short-season teams are generally the first stop for each year's draft class whether they were college or high school players.
For college players, Brooklyn is usually where they start their professional careers. High school players typically start on the Kingsport or GCL teams, depending on their level of development. The GCL team is particularly important for the rawest players, as proven in 2012 when the Mets inexplicably did without it. Players that would have started on the GCL team ended up bumped to Kingsport where they were clearly overmatched.  The rookie level teams are also where the more developed international free agent (IFA) signees play, whether they are new signees or have advanced from the DSL.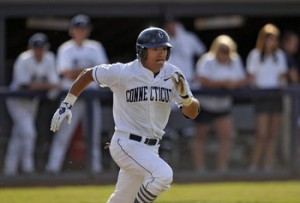 Keep in mind that most prospects never make it to the major leagues, and at these levels even if they do it will take several years. That being said, there are some very interesting names at these levels for Mets prospect watchers to keep an eye on, as outlined below:
Brooklyn
Mets360′s David Groveman recently attended a Cyclones game and wrote a great piece scouting some key players on the 2013 team. The Mets' 2012 first-round draft pick, Gavin Cecchini, opened up the season here. As a first-rounder (12th overall), expectations are high for Cecchini as he tries to build on what was a ho-hum season in Kingsport last year. L.J. Mazzilli, 2013 fourth-round draft pick and son of former Met Lee Mazzilli, started his career in Brooklyn as well. He's not expected to make a huge impact at the major league level, but he certainly has a floor to at least make it there. In fact, Paul DePodesta hinted that he could be the fastest moving player of the Mets 2013 draft class.
Another player of note is catcher Tomas Nido, whom the Mets drafted out of high school in the 8th round of the 2012 draft. He too had an unspectacular year in Kingsport in 2012, but showed enough to get the bump to Brooklyn. Other players to watch include college outfielders Patrick Biondi and Jared King and college first baseman Matthew Oberste, all selected in the 2013 draft.
Kingsport
The 2013 Kingsport roster contains some particularly interesting high school pitchers from the 2012 draft: Chris Flexen, Corey Oswalt, and Robert Whalen. These guys could be part of the next wave of solid pitching prospects in the Mets system.
The highly touted shortstop Amed Rosario, whom the Mets signed as an IFA last July for $1.75 million, will make his professional debut in Kingsport. He was ranked #11 on Baseball America's IFA list last year and received first round type money, so expectations are high. He's the youngest player in the Mets system at 17 (in the U.S.-based leagues) and the fact that the Mets started him in Kingsport shows how high they are on him.
The outfield will see the return of 2011 draft pick and speedy centerfielder Bradley Marquez and the introduction of 2013 draft pick Champ Stuart. Marquez, as many of you know, has been splitting his time with the Mets organization and at Texas Tech playing football. Last year he suffered a hamstring injury that limited him to just nine games in 2012. There have been rumblings that Marquez may give up football, which would be a boon for the Mets as Marquez is a very gifted athlete. Stuart, who is also very fast, was a college draftee and does not project as high as a ceiling as Marquez.
GCL
The GCL pitching staff will be interesting to watch, as it includes Mets 2013 second-rounder Andrew Church and third-rounder Casey Meisner. Both were drafted out of high school and are extremely projectable. Mets 2013 first-rounder (11th overall) Dominic Smith will get his start in the GCL and all eyes will be on this highly talented player whose potential is that of an elite first baseman.
The outfield in GCL will be particularly interesting to watch as it includes R.A. Dickey trade piece Wuilmer Becerra, the highly touted Vicente Lupo, and 2013 third-rounder Ivan Wilson. Becerra was the "non-prospect" in the deal, but he is a legitimate prospect that could end up making the trade that much better for the Mets. Lupo spent 2012 demolishing the DSL and Wilson, though raw, has a ton of upside.
No doubt we will see more players added to these rosters as more of the 2013 draft class signs. Though they are far away, the long-term future of the Mets organization is tied to many of the young players at these lowest levels of the system.