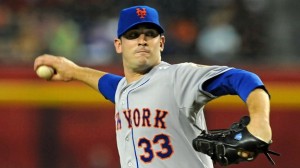 It seems like the only one that can slow down Matt Harvey is Mother Nature. Harvey took the mound on Sunday afternoon (6/23), threw six innings, struck out six batters, allowed two hits and one walk. It was a passing Philadelphia monsoon – a game delay of twenty-odd minutes – that kept him from lasting into the eighth inning or beyond. His season is rapidly approaching "legendary" status. To the astonishment of Met fans, starts like Sunday's are starting to become the norm. Even a level-headed fellow like my friend Howard Megdal is enthralled.
We've all heard the comparisons to the great Met pitching seasons (Tom Seaver's 1971, Dwight Gooden's 1985, R.A. Dickey's 2012). We've also heard the contemporary comparisons, with names like Justin Verlander, Clayton Kershaw and Jered Weaver bandied about. Superlatives are beginning to fail us. Look closer at that Megdal piece: Harvey is accomplishing things not thought possible. Maybe Matt Harvey really is Sidd Finch – the mythical creature created by George Plimpton as the baseball fans' ultimate April Fools' prank. Quick! Check Harvey's locker for a missing work boot and a French horn.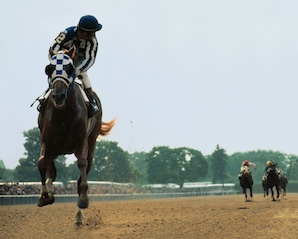 Perhaps a more apt comparison might not even be found among homo sapiens. Back to Megdal, as he points out Harvey's increasing velocity as the season has gone on: pitch f/x has his velocity up two MPH this June over June 2012, when he made his major league debut. On Sunday, he barely scraped 101 MPH with his fastball and even sported a 94 MPH slider. With that kind of velocity, his curve and change-up – "floating" up there at 85 and 88 MPH respectively – make most hitters look like a man trying to swat a gnat with a sledgehammer. These numbers are simply not supposed to happen.
The last athlete your intrepid columnist can recall that denied the accepted physics and flattened conventional wisdom like this was Secretariat. You can make all the jokes you want about Harvey being the horse of the pitching staff, but like the fabled Big Red, he just runs and runs and runs, and if someone is gaining, he simply runs harder. Harvey has no compunction about telling everyone how hard he is on himself, how he can push himself to be better, how he can eliminate mistakes, such as the odd hit, or base-on-balls. And like the 1973 Triple Crown winner, he's good and he knows it.
And we Met fans are lucky enough to get to watch, up close, every fifth day.
Follow me on Twitter @CharlieHangley