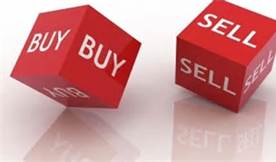 MLB Trade Rumors (By way of FanGraphs) has come out with some lists of those players most likely to be traded at the deadline.  Within the top 30 of each category the Mets have a total of 8 players listed as being "Likely to be traded."  Yet you've probably heard Sandy Alderson telling people that the Mets will be buyers… so who do you believe?
The answer is… both.  The Mets will Sell some of their players who aren't likely to help in 2014 and beyond and they will Buy some players who will.  It isn't a bad strategy, assuming Alderson doesn't snooze on Selling those he should and that he's careful who he Buys.
Selling:
Daniel Murphy: Murphy sports a WAR of 1.5 and has played passable defense at second base for long enough to silence doubters.  He can also play first and third and teams with deficiencies in any of those departments will consider him.  He's still relatively cheap (Hitting Arb for the second time) and under team control until 2015.  All of this adds up to the Mets most valuable trade chip.  Now… Wilmer Flores has trade value too and would be more attractive to a team in "Sell Mode" but what I'm hearing and reading suggests that Murphy is the more likely player to be traded.
Marlon Byrd: This season's Scott Hairston.  I was annoyed when Alderson missed the boat on trading Hairston last season and I will be mad if he does the same with Byrd.  The Mets need to be giving Lagares, Puello etc… a chance to play in the majors as they evaluate their plans for the future and the free agent signing period this winter.  Byrd has a WAR of 1.2 and has been playing almost every day.  Most teams would want him on their bench and he would not get the Mets nearly as much as Murphy but the reasons to trade him outweigh the reasons to keep him.
John Buck: Their hopes of Buck keeping on his early pace and netting them a large haul are gone, but Buck still has value to teams looking to get some power and experience behind the plate.  Buck still projects as a better hitter than a number of other starting catchers and would have some value but we're talking about getting a prospect with obvious flaws or one very far from the majors.
Shaun Marcum: Believe it or not, but Marcum has a WAR of 1.3 despite having no wins on the season.  He's also a veteran that teams can project and an affordable acquisition.  I think there are a few teams who would be happy to add Mr. Marcum to their rotations but he's clearly not going to be netting us someone like Zack Wheeler (as Carlos Beltran did).  I would expect the Mets to find teams who want Marcum, the question is finding something the Mets want in return that the other team is willing to part with.
Carlos Torres: Let's not get carried away by his short audition.  Torres is a relief pitcher who has looked good in a very short look at the majors this season.  The Mets would be foolish not to trade him if a team wanted to catch some lightning in a bottle.
LaTroy Hawkins: Hawkins is a 100% trade candidate.  He's a veteran who is used to being an "Arm For Hire" and he's proven that he can help teams late in the season.  He's not a major trade chip but he's a guy that multiple teams might want.
David Aardsma: Aardsma is not the closer he was for Seattle and he's also not the player that the Yankees let go for nothing.  He's healthy and pitching well enough for any team in the playoff hunt.
Brandon Lyon: He isn't a "sexy" name.  He's a guy who can survive as a reliever and get you through middle innings.  I wouldn't confuse Lyon with a high-leverage relief pitcher but I would say that teams looking for middle innings should come looking.
Honorable Mentions: Omar Quintanilla, Lucas Duda and Ike Davis
Buying:
Nate Schierholtz: At 29 and looking at his final year of arbitration, Schierholtz is affordable… for now.  Alderson will have to be cautioned that this season is astronomically ahead of where Schierholtz usually hits and that he couldn't expect the good times to continue, but he's not an unthinkable option either.  The Cubs will be looking for pitching this deadline and the Mets have it, but I don't think the Mets should go crazy for a player who is slugging over 100 points above his career average.
Norichika Aoki: Will be 32 in 2014 but he also seems like a good fit for a team looking to build their outfield from nothing.  He has a little power and a little speed and he should hit in the vicinity of .300.  None of these things are bad.  The $1.5 Mil option for 2014 is also not bad as the Mets would still have plenty of money to spend left over.  The question is  "How much would Milwaukee want?"  That answer may be too high.
Giancarlo Stanton: You me and my Grandfather (the one who doesn't follow baseball) knows that the Mets (and 28 other baseball clubs) would be desperate to add Stanton to their lineup.  The Marlins are awful to their fans, but they aren't stupid enough not to allow the bidding frenzy.  I'd be willing to package any prospects not named Zack Wheeler or Travis d'Arnaud.  I've spoken to people who would gladly trade even those vaunted prospects.  Is a package of Noah Syndergaard, Wilmer Flores, Rafael Montero, Gavin Cecchini and Cory Mazzoni worth a player like Stanton?  I would say, "EASILY!" I think the Marlins would say, "That's not even close."
Danny Espinosa: Espinosa is playing SS in AAA and that might tell you that the struggling infielder is bound for a bench role on the Nationals but it might also tell you that the Nats are considering trading him.  It's easy to forget that Espinosa is only 26 and is under team control through 2016.  The Nationals are looking for pitching help and the Mets could easily offer Marcum and relievers like Hawkins and Lyon, but are the Nationals really willing to sell low on a guy having an awful season?  Are the Mets willing to take a risk on Espinosa rebounding?  If he can play short stop he can certainly out hit Ruben Tejada.