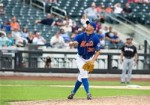 On June 7th, the Las Vegas 51s played the second game of a four-game series in Tacoma, Wash. The following day, the Mets called up reliever David Aardsma, who made the cross-county trek to Queens and pitched a scoreless inning in a day game. Starting on June 8th and the promotion of Aardsma, the Mets' bullpen has been fantastic. Since then, relievers have 63.2 IP and have allowed 13 ER for a 1.84 ERA.
Even taking away the eight relief innings from starter Shaun Marcum in the 20-inning game, the real relievers have allowed 12 ER in 55.2 IP, good for a 1.94 ERA. Here's the breakdown of those relievers:
| | IP | ER |
| --- | --- | --- |
| Aardsma | 8 | 1 |
| Burke | 4.1 | 2 |
| Edgin | 6 | 0 |
| Hawkins | 8 | 0 |
| Lyon | 8.1 | 2 |
| Parnell | 9.1 | 2 |
| Rice | 4.2 | 4 |
| Torres | 7 | 1 |
If we remove Scott Rice from the equation, the other Mets relievers have a 1.41 ERA in 51 IP. Now if only the Mets would remove him on the actual roster.
PT FOR JV HARD TO COME BY – Since the Mets picked up Eric Young Jr. from the Rockies, playing time for Jordany Valdespin has all but disappeared. Since June 19th, Young has 37 PA while Valdespin has just eight. Of course, Valdespin did not help himself by posting a .454 OPS in the first 18 games of the month. And since Young came aboard, he has gone just one for eight, although the lone hit was a HR. Never a favorite of manager Terry Collins, it appears more and more likely that Valdespin will be sent down if and when Ike Davis gets recalled.
DAVIS LOVES THE DESERT – Speaking of Davis, some are starting to get itchy for his return to the majors, as he now has a 1.093 OPS after 15 games in Triple-A. While it's nice to see production like this from the man Sandy Alderson considers a core player, it should be taken with a grain of salt. While some worried that Davis would look superficially good thanks to the wonderful hitting environment in Las Vegas, it was a four-game set in Arizona that has propped up his numbers.
While born in Minnesota, Davis graduated from high school in Arizona and went to college at Arizona State. Playing in Tucson, Davis exploded, going 8-13 with 2 2B and 4 HR. In those four games, he produced a .615/.722/.1.692 slash line for a 2.415 OPS. However, they play games in other parks in the Pacific Coast League. Outside of Arizona, Davis has gone 7-40 (.175) with just 1 HR. And this is with playing 10 of his 11 games in Las Vegas. In his last four games after the Tucson series, Davis is 2-14.
LAGARES, YOUNG AND BABIP – Juan Lagares is batting .295 in his last 16 games while Young is hitting .382 since joining the Mets. It's obvious that Young is enjoying incredible success with his BABIP, as you simply cannot post an AVG that high without the hits falling your way. It should come as little surprise that Young has a .433 BABIP in his time with the Mets. What might catch you a bit off guard is that Lagares has a .400 BABIP in his last 16 games.
Neither one of these hot streaks is going to last. Most (not all) MLB players will post BABIP marks in the .300 range and only 13 qualified players last year posted a mark higher than .350 in the category over a full season. Young's lifetime mark is .321 and with that he has a career .266/.333/.349 slash line, which is below-average production for a starter.
As for Lagares, he has a .705 OPS during his 16-game hot streak. While the hits are falling in, he has 0 BB and 1 HR in 62 PA, so he's contributing very little outside of AVG. What happens when the hits stop finding holes? The average CF has a .714 OPS in the NL to this point in the season. Lagares cannot even reach that mark when he's on a hot streak. For the year he has a "normal" .308 BABIP and a .582 OPS in 113 PA.
The advanced numbers love Lagares' defense. But even with a 3.1 UZR – a fine number in his playing time and one that translates into a top-10 mark over a full season – he has just a 0.2 fWAR. At this rate, he would be roughly a 1.0 fWAR player over a full season and that's not a mark of a starter in the league.
METS AND THE HR BALL – New York won Thursday's makeup game against Colorado thanks to a two-run homer from Marlon Byrd. That gives the Mets 74 HR for the year, which is the NL average to this point in the season. They have hit 41 homers on the road and 33 in home games, having played one fewer home contest through 55 games.
The Mets went 7-4 on the road trip despite hitting fewer HR than expected. They entered the road trip averaging 1.2 HR per road game yet went homerless in four of 11 games. New York came in 4-17 (.190) in games without a homer, yet it went 2-2 in games on this trip where it did not leave the yard. Of course, the Mets went 5-2 in games with a homer, so the long ball certainly helped the winning record.
HEFNER KEEPS ROLLING ON – Jeremy Hefner allowed 1 ER in 6 IP Thursday, lowering his season ERA to a 3.72 mark. Among 98 qualified pitchers in the majors, that ranks tied with Chris Tillman for the 48th-best mark. Yet Tillman is 9-2 and Hefner is 2-6 after another no-decision. For the month of June, Hefner has a 1.80 ERA, currently the fourth-best mark in the majors. Hefner now has 10 Quality Starts on the year, second on the club behind Matt Harvey's 13.