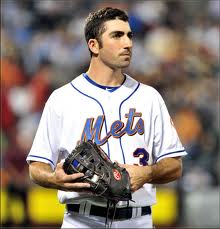 It's no surprise that as the Mets sit here in July, many new faces have come up and seen time in the big leagues. One of those new faces has come up and taken over at first base. That is none other than Josh Satin. 
With Ike Davis finding himself in the minors and Lucas Duda hurt, the Mets turned to a prospect that they liked, but just couldn't find room for at the big league level. Now Satin is getting his chance to play every day and is making the most of it. But, what does this mean for his future and the Mets' future? To answer this, a closer look at the numbers is required. 
Satin in 2013: 16 Gs/51 PAs/.390 AVG/.510 OBP/.561 SLG
Satin has been able to achieve success here at the big league level this year, so far. But a look at his last full season in Triple A shows that this isn't something new.
Satin in 2012 (AAA): 131 G's/527 PA's/.286 AVG/.391 OBP/.442 SLG
And in a short time down in Las Vegas this year Satin had a .305/.420/491 line in 59 games.
This isn't new to Satin. The guy can flat out hit the baseball. He has a smooth compact swing and has shown he has the ability to put the ball anywhere he wants to.  He is like Daniel Murphy in the sense that he's just a flat out hitter. And that's something the Mets have been lacking in the past. Satin is a breath of fresh air to a team that needed it.
Satin has come up with the big hit multiple times already since his June 11th call up, adding another tool to his game that the Mets lacked. Yes it is only 16 games at the big league level and his numbers are definitely going to drop, but there's no reason why Satin can't hit .280/.290 at this level. His minor league stats speak for themselves (including the lower levels, as well).
With the struggles of Ike Davis and the apparent need for Lucas Duda to remain an outfielder has allowed Satin to burst onto the scene here in Flushing. His stock is rising within the organization and he deserves the opportunity to prove what he's got.
Come September and during the off-season, the management needs to make a decision as to what the future at first base should be. Josh Satin is playing himself right into those conversations. But for now, as a fan, it's just time to enjoy watching a player make his dream come true. And come on, look at those eyebrows, that's a story in itself.